Etihad Airways suspends all flights to KTM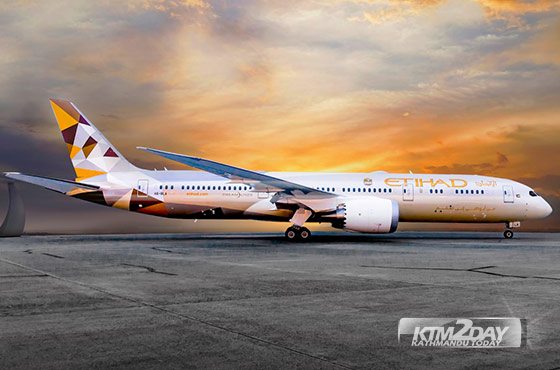 All flights of Etihad Airways from Kathmandu bound to Doha of Qatar are going to be suspended from Monday.
The flag carrier of the UAE has suspended its all flights from Abu Dhabi to and from Doha after Saudi Arabia, Bahrain, the United Arab Emirates severed their diplomatic ties with Qatar following tension among the Gulf countries.
"All customers who have booked on Etihad Airways flights to and from Doha are being provided with alternative options, including full refunds on unused tickets and free rebooking to the nearest alternate Etihad Airways destinations," reads the statement of the Etihad Airways forwarded to Republica Online by Pawana Shrestha, the Country Manager at Etihad Airways for Nepal.
While Etihad Airways does not make direct flights to Doha from Kathmandu, it has been making four flights a day to Doha through Abu Dhabi.
Following the suspension of the flights, those Nepali workers flying to Qatar by Etihad Airways will be hit hard.
According to Shrestha, passengers departing on today (Monday)'s flight EY 291 KTM-AUH/EY391 AUH-DOH will be allowed to fly. "Similarly, connecting from EY394 DOH-AUH/AUH-KTM EY 290 will be allowed to board," she added.
Saudi Arabia, Egypt, the United Arab Emirates and Bahrain severed their ties with Qatar on Monday, accusing it of supporting terrorism, opening up the worst rift in years among some of the most powerful states in the Arab world, reported Reuters.