Why Ncell paid Rs 13.6 billion in CGT ?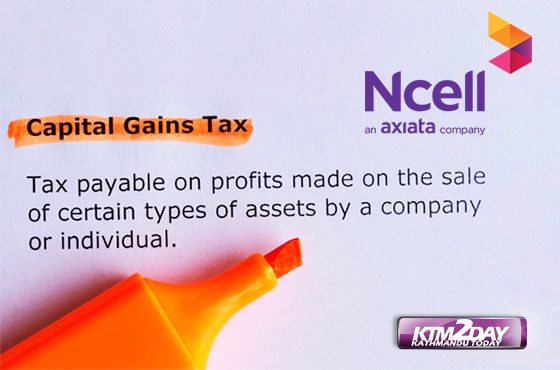 Ncell has paid the Capital Gain Tax (CGT) amidst a debate over whether the tax should be paid or not and who should pay the tax as there was no clear provision on acquiring CGT on offshore transactions. The amount paid by the Ncell as the CGT calculates to be the 15 percent of the share transactions.
Malaysian telecom giant Axiata had bought Reynolds Holding, which held a majority stake in Ncell, from TeliaSonera at around 140 billion in April last year. The amount deposited at the Large Taxpayers' Office so far is the 15 percent of the transaction.
The Axiata, which had asked the government of Nepal whether it has to pay tax on off-shore transaction or not and if yes, what would be the amount, however, has paid the tax when the government authority has not yet assessed the CGT on the share transfer deal of Ncell between TeliaSonera and Axiata.
The reason behind Axiata's move is to operate and promote Ncell business smoothly. The company with foreign investment had been facing difficulties in acquiring facilities from the state. Some of the high level officials of Ncell are forced to stay in Nepal in tourists visas as the government had tightened the process of providing work permit and visa. Following the half a dozen of instructions from parliamentary committees, Ncell was facing difficult time in executing its plans.
The obstructions in operating 4G service, Ncell feared that it would remain behind in the market competition. Ncell is aware about the situation that Nepal Telecom is yet to expand the 4G service throughout the country and one of competitors, Smart, recently received license for 4G and another competitor STM acquired unified license. Ncell probably thought of utilizing the situation as it has a target of covering 15 percent of 4G users by the end of 2017.
Another reason behind the tax payment is the adverse effect on the brand itself. There was a fear that the controversy related to tax could create negative impact on the brand image of the company, which is considered as the strongest brand of the country.
Because of all these reasons, the high level officials of Ncell were consulting government officials since last three weeks and discussing about the payment. A government official said that the Ncell representatives attending those official meetings were telling that they would clear their financial responsibilities regarding the CGT by June 7.
Following Ncell's move, the Large Taxpayers' Office is all set to follow TaliaSonera to ask it to pay the 10 percent of the CGT, which is its financial responsibility in the share transaction.