Shopping Malls in valley observe drop in sales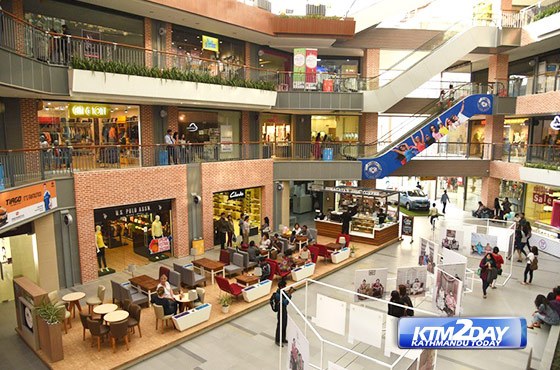 Major shopping malls in the Kathmandu Valley have seen a significant drop in sales, as the first phase of local elections diverted attention of consumers compounded by the slow rise in temperature even after the end of winter, kept shoppers intending to purchase summer wear at bay.
A snap survey conducted by the Post at Kathmandu Mall, Civil Mall, United World Trade Centre and City Centre showed that sales of fashion wear and accessories have dropped by 25 percent to 40 percent.
At this time of the year, sales of summer clothes used to jump, with people thronging malls to purchase latest arrivals. But even with the advent of summer, many shops in these shopping malls are not seeing influx of customers.
"We used to earn around Rs30,000 to Rs40,000 per day during this season. But daily sales have now dropped to Rs15,000 to Rs20,000," said Vaikuntha Manandhar of Kathmandu Mall-based UFO, a fashion store chain.
Things are not different at other malls in the Valley.
Sphinx, a fashion store at City Centre, a shopping mall located at Kamalpokhari, has also seen sales decline by around 25 percent, while Escape, another fashion store at the same mall, has seen sales plummet by 40 percent.
One of the reasons for drop in sales, according to Manandhar, is local elections. The first phase of local elections was held on May 14. But preparations began weeks ahead of the actual election day.
"Because of this, many people, who had migrated to the Valley for employment and other purposes, returned back to their home districts. This hit our sales," said Manandhar, who has been in fashion business since 2006.
Ram Shrestha, owner of Sphinx, and Prajjwal Thapa, owner of Escape, also had a similar view. Another reason for drop in sales, according to Nikki Gurung, a shop attendant at Diva, a fashion store at Civil Mall, is slow rise in temperature even after the end of winter.
"We had a longer winter this year. So, people intending to buy summer wear delayed their purchase plan. This has affected our sales," said Gurung.
Despite low business volume, most of the operators of fashion stores at malls are introducing all the latest arrivals to attract consumers. Most of the fashion stores in the Valley import fashion wear and accessories from China, Thailand, Bangladesh and India. Many are now resorting to summer sale to increase footfall in their stores.