Washing Machines sales skyrocket in Nepali market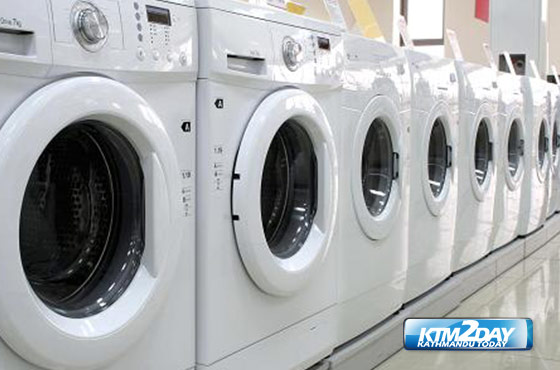 The end of load-shedding, and people's busy life and rising purchasing power have boosted sale of washing machines in Kathmandu Valley.
"The sale of washing machine in the country has been increasing every year. However, this year it has taken an unprecedented leap," said Nikita Sharma, manager of Samsung Plaza, which has seven showrooms across the country.
"Previously, women were usually confined to home and were mostly involved in household chores. However, women life's a busy life today as they are now an integral part of the country's workforce," Sharma said, adding: "With both men and women working, they have little time for household chores such as washing clothes. As their purchasing power is rising faster, they opt for technology such as washing machines which makes their life easier."
Aasthik Ranabhat, marketing and brand manager of CG Impex Pvt Ltd – the authorized distributor of LG products in Nepal, seconded Sharma. "Washing machines have in fact been the most demanded home appliances in recent months. The main reason behind this is the elimination of power cuts," Ranabhat said.
Laxmi Rai of Super Smart Electronics, New Road, said as it is very difficult to find household workers, people find it more convenient to purchase a washing machine.
Although traders have different opinions on the reason behind the drastic increase in washing machine sales, all agree that there has been a significant rise in sales this year especially during winter. "Winter has always been ideal for washing machine sales. While it is refrigerator that are in most demand during the summer, washing machines are sought the most during winter as people experience major inconvenience coping with the frigid cold water while hand washing clothes," said Anu Magar of Esquire TV Centre, New Road
Sharma of Samsung Plaza claimed that there has been at least 30 percent increase in sale of Samsung washing machines, while Ranabhat say sale of LG products is at least 25 percent higher than the targeted sales.
You may also like to read : Samsung Washing Machines Price in Nepal
LG, SAMSUNG, WHILRPOOL, IFB POPULAR BRANDS
Kathmandu retailers claim that LG, Samsung, Whirlpool and IFB are the most sought-after washing machine brands in the country although other brands such as Sansui, Hisense, CG and several other brands are also available in the Nepalese market. "
"People usually look for these popular brands as they are most familiar with consumers due to the credibility and trust these brands have gained over the year"," Mahesh Karki of Nepal Electronics said
Among washing machine models, the front loading machines are popular among Kathmandu dwellers despite their comparatively heavy price tag. Nikita Sharma of Samsung Plaza explained" "There has been a surge in the demand for front loading machines as opposed to top loading ones despite their higher price due to their superior functionalities. They are also considered prestigious to own", she added.
Nepali market features a plethora of washing machines. However, traders say that machines priced between Rs 60,000 and Rs 90,000 are high in demand.