Nepal in dire need of another modern international airport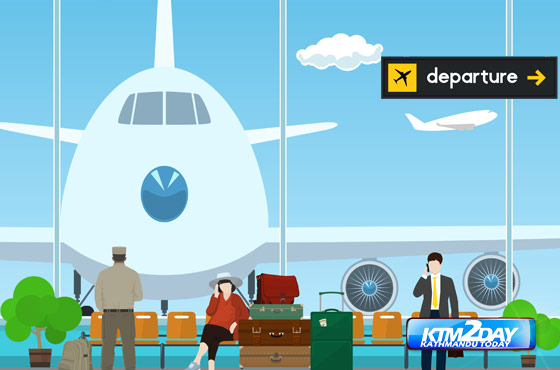 All the international flights on the way to Tribhuvan International Airport (TIA) in Kathmandu were diverted to Indian cities on after an aircraft of US Bangla Air met with an accident near the TIA runway Monday afternoon.
Hundreds of passengers preparing to fly from and to Kathmandu were affected for about three hours because the country does not have another international airport.
However, the situation would have been different had Gautam Buddha International Airport in Bhairahawa come into operation within the first deadline of December, 2017. All the flights could have been diverted to this airport country's international air connectivity would have remained intact.
However, completion of construction does not mean that airport can start operation immediately. It can take few more months to install equipment and hire manpower, according to aviation experts.
Former Minister for Culture, Tourism and Civil Aviation, Jeevan Bahadur Shahi, claimed that Gautam Buddha International Airport could have received almost all international flights diverted to India following US Bangla crash had construction been completed within the given deadline.
Government officials and political leaders had reiterated commitment to expedite construction of second international airport in Nijgadh of Bara when TIA was closed for four days after a Turkish Airlines aircraft experienced runway excursion while landing at the airport in March, 2015. However, work on the second airport has not move forwarded expect for fencing in some places. Similarly, construction work of Gautam Buddha International Airport was affected for over a year due to payment disputes between local vendors and a Chinese contractor building the project. Work progress remains at mere 35 percent.
"Gautam Buddha airport is better than TIA in various aspects. But construction work will complete only in 2019 as per the revised work schedule," Om Sharma, project manager of Gautam Buddha International Airport, told Republica.
The government had awarded contract to the Chinese company in November, 2013, giving project completion deadline of December, 2017.
"With proper planning, and timely arrangement of manpower and installation of equipment, Bhairahawa airport would have been able to operate flights by now had construction works been completed within the deadline," Sharma said.
Air traffic congestion at TIA has worsened in recent months with passengers reporting frequent flight delays and cancellations. But concerned government authorities are not doing the needful for searching the alternative. The two under-construction projects could help a lot in reducing air traffic congestion.
"The government has neither decided development modality of Nijgadh airport nor has paid a Korean company, which prepared detailed project report (DPR) of the airport," said former minister Shahi. "I tried to select build, own, operate and transfer (BOOT) model because we do not have resources to build. But there were many hurdles," said Shahi.
TIA shut for three hours
KATHMANDU (REPUBLICA): Both domestic and international flights from and to Tribhuvan International Airport (TIA) were halted for three hours afternoon after a US-Bangla Air aircraft crashed near the runway on Monday afternoon.
According to Prem Nath Thakur, the spokesperson for TIA, the airport remained closed from 2:18 pm to 4:45 pm. "We shut the airport for three hours. Some domestic flights were diverted to other airports of the country, while international flights were diverted to Lucknow of India and Dhaka of Bangladesh," he said, adding that the airport resumed normal operation at 4:45 pm.
Flights to airports that have night-landing facility were operated after the airport resumed operation, while flights to airports without nigh-landing facility were cancelled, according to TIA.
According to Buddha Air, it canceled all flights scheduled between 2 pm and 4 pm on Monday. "Flights to and from Bhadrapur, Dhangadi, Simara, Nepalgunj were canceled. Luckily, a flight from Pokhara landed at TIA before the crash," an official of Buddha Air said.
Buddha Air operated flights to Bhairahawa and Biratnagar after 5 pm.
Similarly, Saurya Airlines also canceled its flight to Bhadrapur. Likewise, Shree Airlines diverted its Dhangadi-Kathmandu flight to Bhairahawa. It landed at TIA on Monday evening.