Buddha Air begins scheduled flights to Varanasi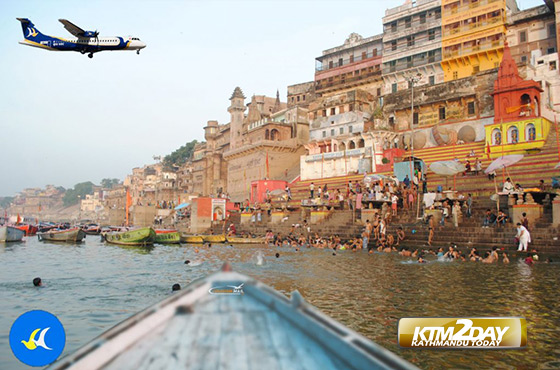 Private carrier Buddha Air on Friday started scheduled commercial flights to Varanasi of India in a bid to cash in on growing religious tourism market between the two countries.
Varanasi lies in the Indian state of Uttar Pradesh and is regarded as a holy city by Hindus, Buddhists and Jains. The flights will be operated on Fridays and Mondays.
Birendra Bahadur Basnet, managing director of
Buddha Air, said the plan to conduct scheduled flights is to promote religious tourism as the number of pilgrims has been growing.
"The direct flight connectivity is not only to bring Indian pilgrims to Nepal but also to provide affordable packages for Nepalis going for a holy tour," Basnet said during the flight launch on Friday.
The carrier will be operating a 45-seater ATR aircraft for the 50 minutes flight. Buddha has been operating chartered passenger services on the sector since 2012.
Buddha air has also developed three different packages: Varanasi-Sarnath package at Rs32,500, Varanasi-Bodh Gaya package at Rs34,000 and Varanasi-Allahabad-Ayodhya package at Rs41,500. On Friday, Tourism Minister Rabindra Adhikari flagged off the flight at Tribhuvan International Airport.
"The government has announced Visit Nepal 2020 with the aim of attracting 2 million tourists. I believe, such initiative will help to realise the government's goal."
"We have also planned to focus cross-border flights to most of the states of India in a bid to increase India footfalls in Nepal," he said, adding that the airports in the bordering areas will be upgraded to international standards.