Smartphones dearer after hike in excise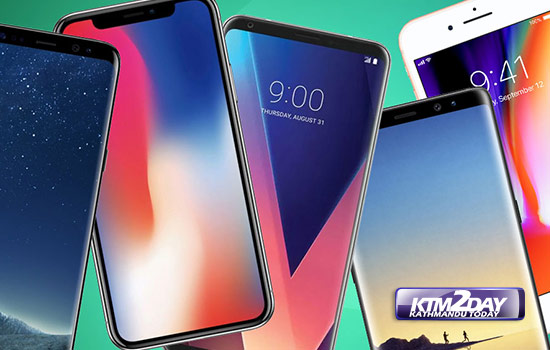 A hike in excise duty has made smartphones dearer. Prices of smartphones of all brands have gone up by an average of 5 percent, mobile dealers said. Some sellers have already raised their prices while others plan to revise the rates on Tuesday, the beginning of the new fiscal year 2018-19.
Authorized distributors of smartphone brands like Huawei, Oppo, Nubia, Colors and Mi have increased prices. Call Mobility, the authorized distributor of Huawei smartphones in Nepal, has hiked prices by 6 to 8 percent depending on the model. The company said that it had already implemented the revised prices on some mobiles and would do so on others too.
Tele Cell, the authorized distributor of Oppo phone, has not yet revised its prices but said it would they be hiked according to the model. "We are discussing the new prices so that they will have minimal impact on customers and the market," said Bobby Zhao, CEO at OPPO Nepal. "The company will be implementing new prices soon."
The company has been introducing at least one new model each month, said Suraj Maharjan, public relations manager at Oppo Nepal. "We will be coming up with one mid-tier phone along with some other models."
Prices of Colors and Mi sets will be increased by 7 to 10 percent, said Sanjay Agrawal, CEO and director at Tele Talk, the authorized distributor of Colors and Mi mobile phones in Nepal. The company will unveil a new price list on Tuesday.
ITP Nepal, authorized distributor of Nubia, a newly introduced smartphone in the country, has increased prices by 3 percent, said Puskal Khatiwada, sales and marketing head at Nubia.
The company had planned to sell its M2 Lite at Rs19,800, but with the tax hike, the company has revised the price to Rs19,999. Similarly, the company increased the price of the Z17 Mini S model to Rs37,499 from the earlier Rs36,000. The price of the Z17 Mini which the company had fixed at Rs29,999 has been revised to Rs28,500.
Samsung has increased smartphone prices by 5 to 8 percent on specific models, the company said. The new prices have already been implemented.
Kumar Shrestha, a mobile shop owner at RNB Electro in New Road, said smartphones prices had increased by around 5 percent.
According to him, the devices have become dearer by Rs1,000 to Rs2,000 each. Smartphone sales have dropped following the price hike, he said. "The impact, however, will be short-term."