US Dollar rate scales new height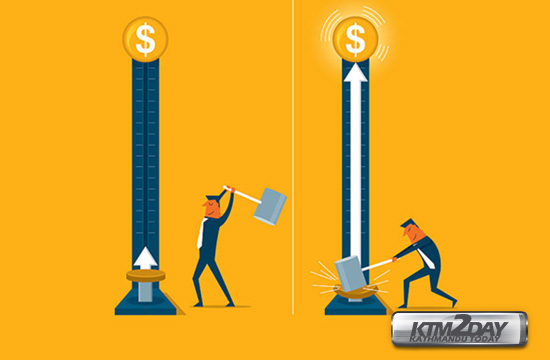 The Nepali rupee plunged to a fresh low on Friday, with the Nepal Rastra Bank (NRB)—the country's central bank, fixing the exchange rate at Rs118.33 per US dollar for Saturday. The Nepali rupee's freefall is an effect of the steady depreciation of the Indian rupee with which it is pegged.
During the last three and a half months, the Nepali currency has depreciated by over 7 percent against the greenback. Earlier on June 29, the exchange rate stood at Rs110.37 per US dollar, its lowest value after November 25, 2016.
Also read – Rising Dollar rate and oil prices to suppress Nepal's economic growth
According to Indian media, the Indian currency opened at 73.64 against the dollar and touched a fresh low of 74.22 on Friday. The freefall of Indian currency against US dollar has been attributed to the reluctance of the Reserve Bank of India, the Indian central bank, to hike its key rate at a time when oil prices are soaring in the international market. "Higher interest rates can attract greater foreign investment, helping to increase demand and subsequently the value of the country's currency," states Indian media. "India is a massive net importer of oil, securing more than two-thirds of its needs from abroad. High oil prices have been squeezing the Indian rupee, making it less appealing to investors."
The depreciation of its domestic currency could further worsen the country's net inflow amount. In addition, it could raise the market price significantly as the country is dependent on imported goods.