Nepal imports electric lamps worth over 600 million this Tihar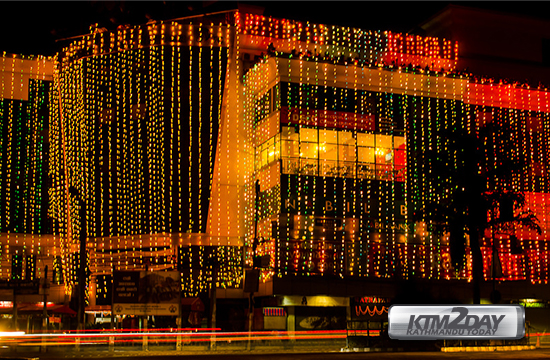 Electric decorative lights worth over Rs 600 million have entered the country for the specific purpose of the Tihar festival this time. Such lights are used to decorate home, yards, offices, and alleys and lanes in Tihar.
According to Federation of Electrical Entrepreneurs of Nepal central president, Tej Narayan Kharel, import of electric lamps during the festival doubles than during normal times.
Also read – Nepal to export electricity to Bangladesh using Indian transmission line
Several varieties of electric lights including disco lights, electric candles and colourful tube lights have been imported for Tihar. Of the total imports, 90 per cent is from China and remaining 10 per cent is from India. Nepal is totally depending on two its close neighbours for the supply of Tihar lights.
As stated by the Federation, over 2,000 members of the organisation are involved in the supply of such lights from urban to rural areas.
Federation general secretary Resham Devkota said the culture of burning oil-fed lamps and using locally available materials such as mustard oil and Pomilo leaves to brighten the houses during the Tihar is gradually vanishing with the increasing use of electric decorative lights
According to Nepal Electricity Authority, Bharatpur distribution center's chief Suresh Mahato, power consumption increases by 15 per cent during the Tihar. However, the closure of industries and factories in Tihar makes it easier to manage power supply in this period.