Cloudflare launches DNS 1.1.1.1 app for Android and iOS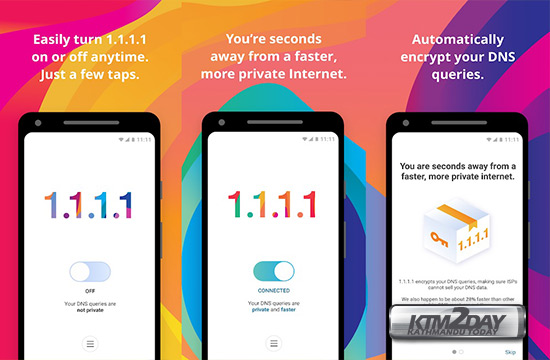 Cloudflare has now brought its privacy-focused DNS service 1.1.1.1 to Android and iOS users. The service, which initially arrived in the form of a Web offering back in April, is aimed to offer a secured Web browsing experience by transporting all your DNS data through the company's dedicated 1.1.1.1 DNS servers. While mobile users were able to use the native 1.1.1.1 website, the Cloudflare team has now brought a standalone app for Android and iOS devices to deliver native support. The service was also initially tested on mobile devices through a beta channel.
Also read – Ride Hailing App Pathao now available for both Android & iOS
Similar to its Web version that debuted earlier this year, Cloudflare's new 1.1.1.1 app is designed to secure all your DNS queries from ISPs as well as webmasters. It is also touted to help you access the Internet faster by using Cloudflare's global content delivery network (CDN). The company claims that on an average, it is capable of delivering 28 percent faster experience than the "next fastest public resolver". The app mainly provides you with VPN support to transport all your mobile traffic through 1.1.1.1 DNS servers. However, in comparison with a majority of VPN services, it offers a speedier experience.
It is worth noting here that once you install the 1.1.1.1 app on your mobile device, you need to install Cloudflare's VPN profile to encrypt your DNS queries. Also, if you're using the new app on your mobile device, other VPN apps on your device will become inactive.
Cloudflare claims that it will not charge any in-app purchases through the 1.1.1.1 app since it receives payments from website owners to make the Internet faster. This gives you another reason to pick the Cloudflare option against many other DNS resolvers. Moreover, the company promises that it doesn't sell any user data.
The 1.1.1.1 app is available for free download through Google Play and Apple's App Store. It is compatible with devices running at least Android 5.0 Lollipop or iOS 10.3. Apart from smartphones and iPhone models, the app works with Android tablets and iPad.
Android Users – Download here
iOS Users – Download here