Runway rehabilitation of Kathmandu Airport begins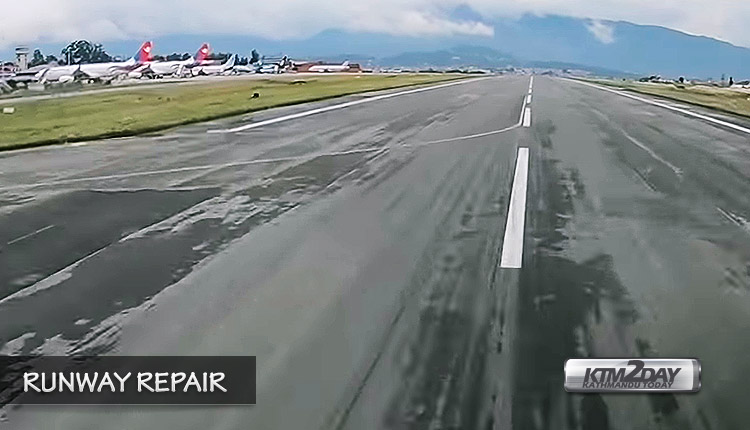 Runway rehabilitation has begun at the country's only international airport, Tribhuvan International Airport, in a full-fledged manner. Civil Aviation Authority of Nepal (CAAN) – the regulatory body of the aviation sector – has put in place up-gradation of the runway since last Monday evening.
Sitaram Bhandari, Chief, Air Traffic Controller (ATC), said that the flights are being smooth at the airport following first-day renovation works. Landing and takeoff of flights are smooth since 8.00 am today even after renovation, he informed.
This morning Narrow Body Airbus of Nepal Airlines was the first to land at the airport and Jet Airbus took off of its first flight.
According to the airport sources, even the domestic flights are being smoothly operated from the airport. In order to advance runway rehab, the airport is to be closed for 10 hours a day for the next three months from April 1. Around 80 metres of the runway was blacktopped in the first day of renovation, informed Baburam Poudel, Director of Air Transport Capacity Enhancement Project of CAAN.
The TIA which has been operational for 22 hours a day would limit its service for 14 hours with the effect of renovation, the airport sources added. During the renovation, the airport would remain open from 8.00 am to 10 pm every day. Earlier, the airport was providing service from 6.00 am to 3.00 am.
The 3-km-long dilapidated runway of TIA would take three months for renovation. Maintenance works would start from 10.00 pm to 8.00 am every day. The existing pitch of the runway would be removed and a new pitch would be rehabilitated during the period. On last November, CAAN had signed a memorandum of understanding with Chinese Company, China National Agro Technology International Engineering Corporation for up-gradation of the runway.
The agreement of Rs 3.75 billion was signed with the company for the blacktopping of the runway. CAAN came up with a plan to completely rehabilitate the runway after the cracked runway was creating problems in course of landing and taking off of the aeroplanes.