Huawei P30 Pro tear-down reveals share of US manufactured components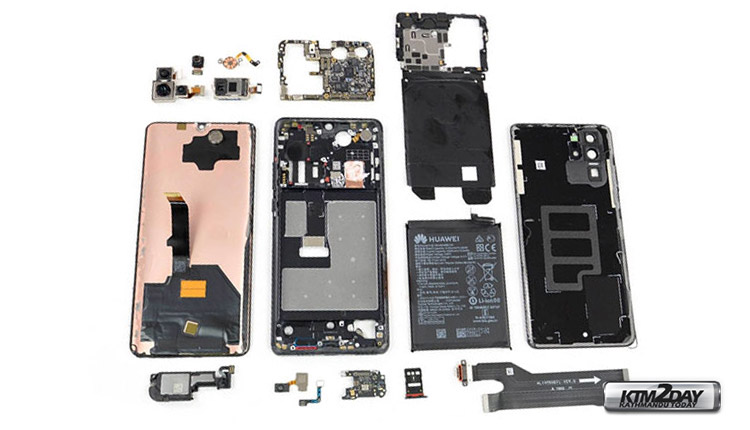 Experts are confident that the US sanctions against Huawei will hurt the company and hinder its production line in the near future. Formally, at this stage, the Chinese can not roll out the replacement of Android and Windows, can not find an alternative to those components that are created by hand and with the participation of patents of American companies.
But aren't these threats exaggerated? Especially in part of the American components? The Japanese company Fomalhaut Techno Solutions tried to answer this question and "opened" the latest flagship Huawei P30 Pro to calculate how many parts consists from the American origin.
According to their calculations, the flagship consists of 1,631 parts, of which only 15 are manufactured by American companies and this makes up only 0.9% of all components.
The lion's share of components, and this is 53.2% or 869 parts, the company purchases from Japanese partners. Companies from South Korea supply 562 nodes or 34.4% of components for the Huawei P30 Pro. The remaining almost 10% comes from parts from China and Taiwan.
Experts estimate that the cost of components for the Huawei P30 Pro is $ 363.83 and $ 59.36 (16.3%) are from nodes in the United States.
Among the most expensive components, experts note the BOE OLED display, which costs $ 84, the Micron memory module at $ 40.96, and the Kirin 980 proprietary chip at $ 30.
If US sanctions remain in effect, then in order to produce the same Huawei P30 Pro, the company would theoretically need to find an alternative to American Micron memory modules, Logic audio amplifiers, Qorvo chips and Corning tempered glass.
Breakdown of parts used in Huawei P30 Pro (estimated cost)
Total cost:
$363.83
Total number of parts:
1,631
U.S.A
$59.36
(16.3%)
15 parts
(0.9%)
China
$138. 61
(38.1%)
80 parts
(4.9%)
Japan
$83.71
(23.0%)
869 parts
(53.2%)
South Korea
$28
(7.7%)
562 parts
(34.4%)
Taiwan
$28.85
(7.9%)
83 parts
(5.0%)