Gautam Buddha Intl Airport to be ready for trial flights by Q1-2020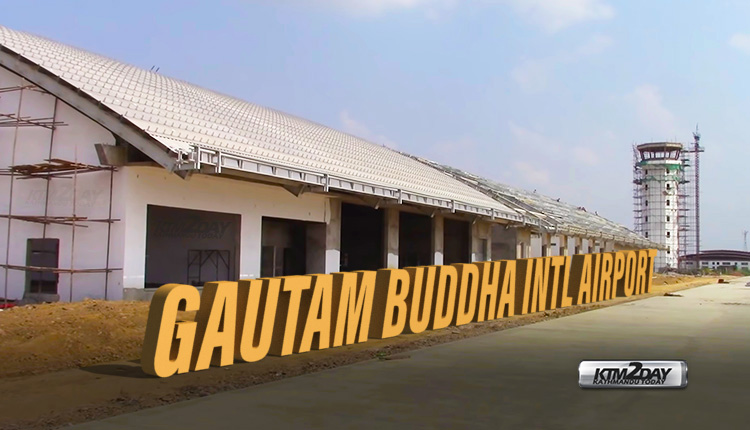 The Gautam Buddha International Airport (GBIA) in Bhairahawa is likely to be ready for trial flights by the first quarter of 2020.
With the completion of 83.25% of work, there is a high probability that the airport will come into operation in the first quarter of the coming year. The airport has achieved 94% work progress in civil works.
"Going by the work pace, all civil works will be completed by December 2019," Prabesh Adhikari, the project director of GBIA, told Republica. "This means, the airport could be ready for trial flights by the first quarter of 2020."
"Only 6% of civil works and installation of equipment under electromechanical work are remaining now."
According to Adhikari, the contractor for electromechanical works is bringing equipment from the US, Europe and China. "Installation of equipment doesn't take much time," he added.
The construction work of the project has been separated into two packages – international competitive bidding (ICB)-I and ICB-II. "Works like construction of taxiway, runway and control tower, among others, fall under ICB-I, whereas works dealing with communication equipment fall under ICB-II," he told Republica. "Works in both packages are going on in a parallel manner."
Minister for Culture, Tourism and Civil Aviation Yogesh Bhattarai has been pressing for early completion of the airport project keeping in view the Visit Nepal Year 2020 tourism promotional campaign.
Bhattarai said the project would be completed within the stipulated deadline. However, its operation might be pushed back a few months for preparation of flights.
Operation of flights at GBIA is expected to increase the arrival of tourists to Lumbini – the birthplace of Buddha which lies 20 kilometers away from the airport. Government officials are optimistic that people visiting Lumbini will increase significantly with the operation of direct flights to Bhairahawa.
The airport project was originally scheduled to be completed in December 2017.
The new completion deadline is December 2019. The government is implementing the project with the financial support of Asian Development Bank (ADB).
The project is estimated to cost Rs 6.23 billion. Of the total cost, the ADB is providing $58.50 million ($42.75 million in loans and $15.75 million in grants), while OPEC Fund for International Development (OFID) is chipping in with $15 million as loan financing.
The remaining cost will be borne by the Civil Aviation Authority of Nepal (CAAN) – the civil aviation regulator as well as airport operator of the country.