Airbus A220-300 lands in KTM as part of a world demonstration tour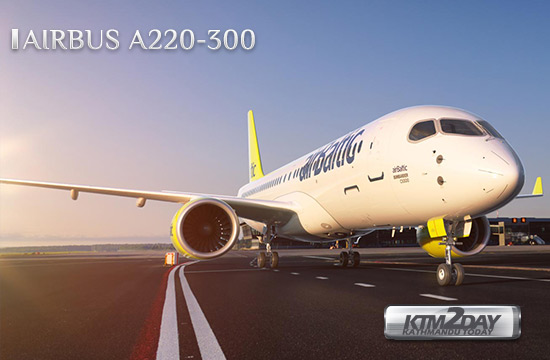 The newest addition to the Airbus family of commercial aircraft, the A220, has made its first visit to Nepal as part of a world demonstration tour.
The A220-300,bearing airBaltic livery, went on display at Kathmandu's Tribhuvan International Airport (TIA) on Sunday and Monday.
As part of its world demonstration tour, the jet touched down at the Zhuhai Airshow in China on November 5.
Also read – Embraer E190-E2 aircraft lands in KTM for demo tour
The aircraft, formerly known as the CSeries, landed in Chengdu on November 9 and then toured Koh Samui in Thailand on November 10, said Christine De Gagne, aircraft interiors marketing director of Airbus. The jet is scheduled to land in Istanbul, Turkey on Monday.It will then return to airBaltic's base in Riga, Latvia on Wednesday.
According to Gagne, there have been more than 400 orders for the A220 family of aircraft. So far 43 A220-300s have been delivered, she said.
The aircraft can accommodate 145 passengers and offers exceptional performance, comfort and profitability and is well-suited for high altitude airports such as Kathmandu, Gagne said.
In October 2017, Airbus struck an agreement with Bombardier to become a partner and 50 percent majority shareholder in the CSeries program, with Bombardier and the Quebec, government's investment arm, Investissement Québec, owning approximately 34 percent and 16 percent, respectively.
The deal was finalised on July 1 and later the Airbus officially rebranded the CSeries as the A220.The A220 family comprises two models, the A220-100 (100-135 seats) and A220-300 (130-160 seats), formerly Bombardier's CS100 and CS300.
Powered by Pratt & Whitney's PW1500G geared turbofan engines, the jet offers at least a 20 percent lower fuel burn per seat compared to previous generation aircraft, the airbus said in a statement. With a range of up to 3,200 nautical miles (5,020 km), the A220 offers the performance of larger single aisle aircraft.
Its biggest customers are Delta Air Lines (75 aircraft), airBaltic (50 aircraft) and Air Canada (45 aircraft). The only airline customer in Asia is Korean Air, which has eight A220-300s in its fleet and two more on order.