All eyes on Chinese tourists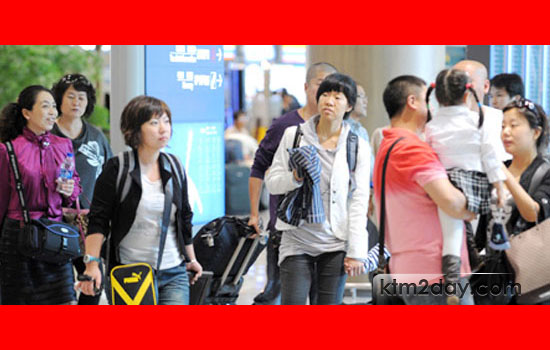 Travel trade entrepreneurs and tourism stakeholders have urged the government to step up efforts to lure Chinese tourists as their numbers have been projected to grow much more than visitors from other countries.
They said that the government, along with the private sector, should jointly understand the need of the Chinese—the world's fastest-growing Buddhist population and holiday seekers.
More flights, promotional materials in Chinese, more Chinese language guides, coordination between Nepali and Chinese travel agencies and understanding Chinese areas of interest in Nepal among other issues should be closely evaluated, they said at a programme entitled "Prospect of Chinese Tourist in Nepal" organized by the Nepal-China Chamber of Commerce and Industry (NCCCI) here on Thursday.
"China now has become the world's fourth largest outbound tourist market with high spending. Even if only a small portion could be attracted, it would be a great achievement for countries like Nepal," said Rajesh Kazi Shrestha, president of the NCCCI.
A boom in Chinese arrivals since the last two years has kept Nepal's tourism sector busy even during the off season. Chinese tourists have taken a great leap forward to reach 75,631 arrivals last year, a 63 percent growth year on year. There were 46,360 visitors from the northern neighbour in 2010.
Tourism entrepreneurs said that Chinese vacationers are showing a shift towards soft adventure activities, which Nepal has in abundance. The beginning of 2012 also saw a 107 percent rise in Chinese visitors. "We should realize that as Nepal is the birthplace of Buddha and has cultural similarities with China, it is easier for us to attract Chinese visitors," Shrestha said.
Realizing the potential of Chinese outbound, Minister for Tourism and Civil Aviation Lokendra Bista Magar urged the Chinese government to support the Visit Lumbini Year 2012 campaign in Nepal.
"The recent visit of Chinese Prime Minister Wen Jiabao has added more mileage to the existing ties between Nepal and China," Magar said, adding that the Chinese premier was positive about supporting development of Lumbini, the birthplace of Gautam Buddha.
Chinese Ambassador to Nepal Yang Houlan said that the visit of Premier Wen has also drawn attention of potential Chinese travellers to visit to Nepal. "Nepal has immense potential for tourism," Yang said. The tourism infrastructure needs to be develop to woo more visitors in the future, he added. He said that the spending of Chinese tourists in Nepal was relatively better than the expenditure made by visitors from other countries. Improving Tribhuvan International Airport or finding an alternative to the airport in Pokhara or other places and improving flight connectivity could attract more Chinese to Nepal. Chinese carriers China Southern, China Eastern and Air China operate on the Guangzhou-Kathmandu, Kunming-Kathmandu and Lhasa-Kathmandu sectors respectively.
Aditya Baral, spokesperson of the Nepal Tourism Board, said there had been persistent growth in Chinese arrivals since June 2009. Despite having immense prospects of attracting Chinese tourists, the country has been unable to reap the benefits fully. "There is a need for collaboration between the private and public sectors to boost tourism in Nepal."
Tourism entrepreneur Bikrum Pandey, presenting Chinese prospects in Nepal, underlined some weaknesses like negative publicity of Nepal hampering growth of Nepal's tourism.(Source:ekantipur)