Apple's M1 Ultra chip is several times larger than AMD's Ryzen SoC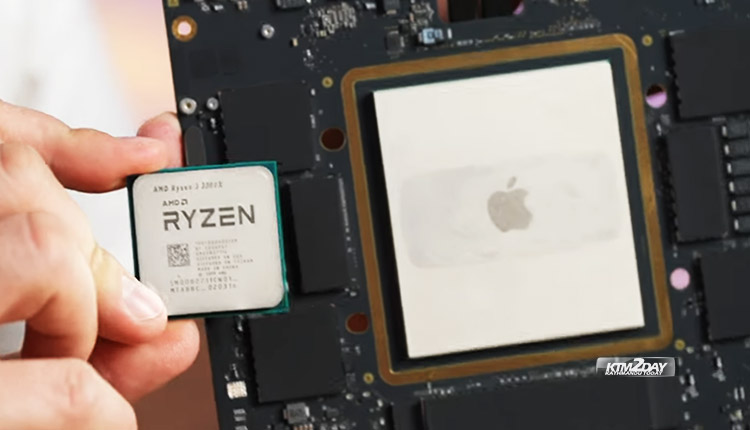 In the spotlight at Apple's March 9 presentation, the new M1 Ultra system-on-chip (SoC) wowed attendees with double the amount of CPU and graphics cores compared to M1 Max, which was released only a year ago. TSMC's M1 Ultra has the most 5nm transistors found in any consumer processor.
If you didn't know, 114 billion transistors make up the Apple M1 Ultra SoC, which is the largest consumer chip currently available. In comparison to the typical Ryzen CPU, Apple's latest creation is massive.
According to reports, the M1 Ultra is larger than even the massive Ryzen Threadripper processors.
There are 20 cores on the M1 Ultra chip, divided into 16 performance cores and 4 efficiency cores. Compared to Intel's Core i9-12900K, Apple claims that its CPU is 90% quicker in multi-threaded performance.
Apple also claims that the M1 Ultra is 90% faster than a Mac Pro with a 16-core Intel Xeon processor when running at maximum speed. Apple's silicon is based on the Arm microarchitecture rather than the x86 microarchitecture used by Intel and AMD.
It's hard to deny that the board itself is massive. In reality, a high-end consumer PC can be built on a board little larger than 10 x 10 cm.
The chip's scalability is on full display in the M1 Ultra. An "UltraFusion" connection linked two M1 Max CPUs to provide the high performance level. The M1 Max has always had an interconnect, but Apple has now put it to use. For a 2.5TB/s data highway, Apple claims that this interposer has minimal latency penalties.
The Neural Engine and accessible Unified Memory may be more than doubled by connecting two M1 Max dies. An integrated high-bandwidth memory architecture is used in Apple's M1 chips. Apple relocated the memory chips directly next to the SoC package and connected them over an interposer instead of connecting slotted memory to the CPU over traces on the motherboard.
The latency is considerably reduced by moving the memory closer to the processing units. As a bonus, it frees up some space on the motherboard for extra functions, or reduces its total weight and size. However, the size of the SoC package is now a constraint due of this technique. The M1 Ultra's memory capacity has been increased to 128GB due to the device's larger packaging and increased memory compatibility.