Avia Club Nepal is organising Nepal's first int'l air show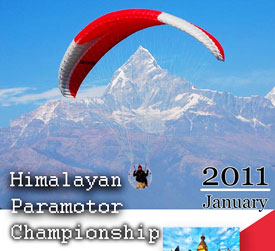 Coinciding with the official launch of Nepal Tourism Year-2011, Avia Club Nepal is organising the first-ever international air show — Himalayan Paramotor Yatra 2011 — in Nepal.
The organisers are expecting about 30 participants from around the world. "As many as 17 participants from Brazil, Germany and Russia have already confirmed their participation," Natasha Shrestha, managing director of the Avia Club Nepal, said. "They will fly from National Stadium and Tundikhel in Kathmandu," she said. "In the second leg, the tour will continue to Hetauda, Bharatpur, Butwal, Lumbini, Tansen and conclude in Pokhara.
She said Himalayan Motor Yatra 2011 will be organised on January 12-23. The event will highlight Nepal as an airsport tourism centre, airsports competitions can be organised round the air.
There are 11 companies involved in the airsport, according to the Ministry of Tourism and Civil Aviation since 1996.
After the airsport started in Nepal some one-and-a-half decades ago, it will be the first time that international pilots will be taking part in the power paragliding (PPG) competition.
"The participating pilots carry motors on their back," said Stephen Shrestha, director at the Avia Club Nepal. "The pilots, who love low flying at low speed love solo, love this sport," he said, adding that the pilots cruise around half an hour to one-and-a-half hours after power PPG takes off to sky between 300 and 500 feet.
The Avia Club has been organising annual national paragliding competition in coordination with local tourism entrepreneurs in Pokhara for the last 12 years. "Nepal has lots of potential for the airsport," she added.
Nepal Air Sports Association (NAA) is established in 2003 to promote Nepal as airsport destination. NAA is a member of Federation of Aeronautic International (FAI) — a global air sports federation that organises aeronautical sports around the world and has 102 members. Nepal is also the member of FAI.
"The air show to be organised in Nepal is also listed in the FAI's annual event, giving Nepal the much-needed publicity for the Nepal Tourism Year-2011," the organisers said. Civil Aviation Authority of Nepal with Air Traffic Controllers (ATC) at the Tribhuwan International Airport (TIA) has been managing the time and security for the air show as the Nepali sky has been crowded lately.