Bangladesh Expo 2017 to be held from 17-21 January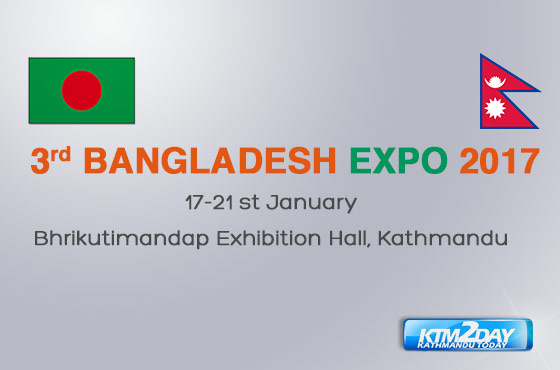 Bangladesh Expo 2017 is slated to begin in Kathmandu from Tues-day in a bid to familiarise Nepali consumers and entrepreneurs about Bangladeshi products.
The five-day event will be held at Bhrikutimandap and will see participation of over 100 Bangladeshi and Nepali exhibitors. The expo will showcase products such as construction materials, readymade garments, saris, plastic products, cosmetics, ceramic tiles, jute products, generators, home appliances and processed food.
Walton, a conglomerate based in Dhaka that produces electronics, motor vehicles, and telecommunications products, will also take part in the fair. A number of Bangladeshi IT solutions companies will also exhibit their goods and services.
Other prominent participants of the fair are Apex, the biggest Bangladeshi leather footwear brand, and Runner, Bangladeshi manufacturer of two-wheelers.
Organised by the Embassy of Bangladesh in Kathmandu, the expo is an annual event being held in Nepal since 2015.
"One of the major objectives of the fair is to generate awareness about Bangladeshi products in Nepal," Bangladeshi Ambassador to Nepal Mashfee Binte Shams told journalists at a press meet held on Friday.
The expo, according to the Bangladeshi ambassador, will work as a platform to increase imports of Bangladeshi products to Nepal.
Nepal currently imports more than 20 products from Bangladesh, including medicine, solar products, raw jute, jam, powdered milk and potatoes.
Nepal imported goods worth Rs4 billion from Bangladesh in fiscal year 2015-16, as against exports of Rs1.20 billion. This was the second year in a row that Nepal had registered trade deficit with Bangladesh.
Nepal was enjoying trade surplus with Bangladesh since 2004-05. However, severe fall in exports of lentil to Bangladesh led to erosion in Nepal's trade competitiveness.
"Bangladesh looks forward to increasing imports of Nepali products, such as pashmina, spices, gems, jewelleries, food and fresh vegetables," Bangladeshi envoy Mashfee said, adding, "The expo will not only strengthen bilateral relations, but business-to-business linkages as well."
"Considering last year's experience, we are expecting about 60,000 visitors per day and transaction volume to reach up to Rs50million during the five-day event," said Rakesh Kumar Mahato, event manager of the expo. Bangladeshi and Nepali event management companies are jointly working to host the event along with the Bangladesh Embassy in Kathmandu.
The event will be jointly inaugurated by Supplies Minister Deepak Bohara and Bangladeshi ambassador to Nepal at 11:30 am on January 17, according to a press statement provided by the event organiser.
The entry fee for the fair, which will continue till January 21, has been fixed at Rs25 per person.