CAN Infotech 80% stall bookings completed, to be held from April 21st to April 26th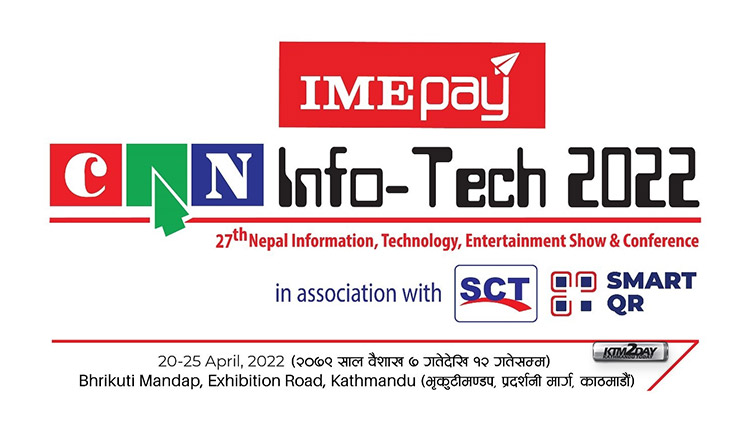 The IME Pay Can Infotech 2022 in association with SCT Smart QR, which will be held at Bhrikuti Mandap in Kathmandu from April 20 to April 25 of 2022, has completed 80 percent of its stall booking.
Because of previous decisions by the Government of Nepal, the 27th edition of the country's only exhibition on information and communication technology and entertainment has been postponed twice due to Covid-19. Due to the failure to organize the exhibition last year, the exhibitors and concerned stakeholders have shown renewed enthusiasm this year.
This year's Infotech will mainly highlight on areas include branding, ICT accessories, game parlors, product launches, robotics, e-waste management, WiFi, Internet, learning centers, startups from across the country, mobile, IT colleges, and employment opportunities based on cutting-edge thinking.
Exhibitors will showcase on the most recent technology available on the global market, as well as operating system software, networking solutions, mobile phones and accessories, electrical and electronics, security solutions, solar power systems, inverters, UPS, laptop and desktop computers, printers, and so on.
Products such as computer accessories, antivirus software, banking solutions, CCTV, and hard disks in latest versions will be on display. Similarly, information about artificial intelligence, information technology-based colleges, banks, insurance and accounting software, current on use and upcoming government software, self-learning software and tutorials, and so on has been prepared for the exhibition.
The 27th edition of CAN Infotech will be sponsored by IME Pay as the lead sponsor, SCT Smart QR as an Associate Sponsor, and IME Pay also as a Ticket Partner, as well as Platinum Sponsors.
Dish Home Fibernet will be the Diamond Sponsor whereas Worldlink Communications will be the Platinum sponsor of the event and S Power, Hello Pay, Digicom, and Broadway Infosys are Silver Sponsors.
The 27th edition of CAN Infotech, which has been held annually since 1995 to raise awareness about Information and Communication Technology (ICT) in Nepal, as well as to learn about the needs of industry and entrepreneurs and to provide necessary support, will take place over six days from April 20th to April 25th of 2022.
It will provide a platform for entrepreneurs and customers to interact. Entrepreneurs will be able to use the exhibition to showcase new technologies and business expansion, while visitors will be able to observe and purchase new information and communication technology and equipment all under one roof.