Coca-Cola and Doko recyclers sets up 'PET collection bin' in Kathmandu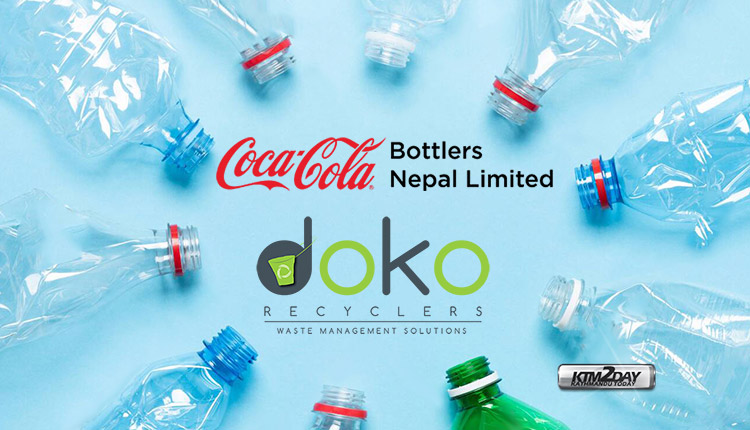 On the occasion of World Recycling Day, Coca-Cola and Doko Recyclers have announced to set up 10 informative PET collection bins in Kathmandu Valley.
The work was started in August 2020 in collaboration with local authorities. The 'Refresh and Recycle' campaign is a campaign to collect used up bottles. The campaign also aims to raise awareness and educate the community about recycling of used bottles.
The previously used bottles were kept in densely populated areas such as Swayambhunath Stupa, Buddhist Stupa, Patan Hospital, Patan Dhoka, Patan Durbar Square, Tribhuvan University and Lalitpur Municipality Public Park. Such used bottles are often disposed off in these areas.
Abilal Shah, Proctor of Tribhuvan University, said, "Students, professors and administrative staff have responded positively to the bin placed at Tribhuvan University." The bin kept at Tribhuvan University is useful for both students and visitors as it is used by almost everyone. We look forward to other contributions in the future. "
Through this campaign, consumers will be encouraged to dispose the bottles they use while in these areas in the PET collection bin after use.
Before disposing, the consumer must ensure that the bottle is empty and clean, trampled. For public awareness, various information has been written in the bin for collecting bottles about the proper stage of disposal and recycling process of used bottles. Used bottles are not classified as waste as they can be used for other purposes. PET plastic is safe, light weight, economical, transparent, moldable and 100% reusable.
"We want to provide public infrastructure for recycling and educate people about the benefits of recycling." Raghavendra Mahato, co-founder of Doko Recyclers, says, "We have succeeded in waste management because it is practical, disposable and can be used in the long run."
Managing Director of Bottlers Nepal Limited Pradip Pandey said, "We have taken ourselves seriously as environmental workers. For which we will adopt new and improved measures for reuse of waste products in Nepal. We value the support and partnership of the local government in this important endeavor. '
Used bottles from those bins will be collected each week by Doko Recyclers, and sent to a designated location for reuse. New bottles / containers and various fabrics / carpets can also be made by processing waste materials. So far, Doko Recyclers has collected about 2,000 PET bottles.
In 2018, Coca-Cola has announced the 'World Without Garbage' campaign with the aim of collecting all used bottles by 2030 and reusing them.
In support of that, Coca-Cola is running various campaigns in Nepal such as Nagar-mitra, Refresh and Recycle to make this campaign a success.