Esewa launches 100 percent cashback offer on airline ticket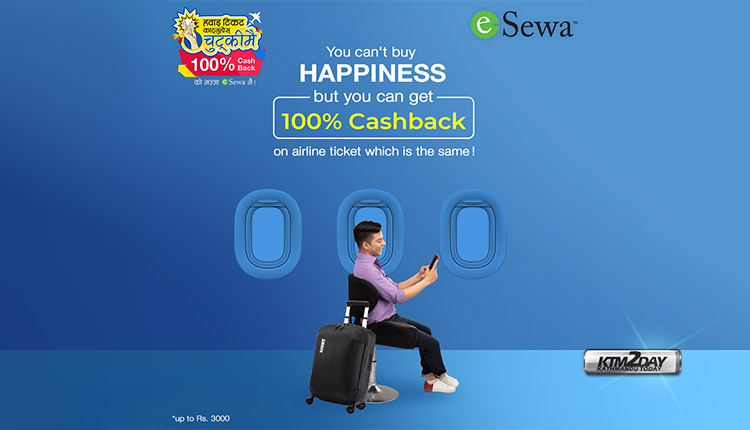 Nepal's first and leading payment service provider Esewa is offering 100% cashback offer on air tickets for a limited period purchased through the platform.
Passengers who book tickets to any of the domestic airlines' destinations through Esewa will be able to participate in this scheme. Every day, 3 people will get a chance to win 100 percent cashback on tickets  (up to Rs. 3,000). This scheme will be valid until 31st of Chaitra. The offer is valid for airlines ticketing on all routes.
Similarly, under the "Jau Hai Pokhara" campaign, passengers flying to Pokhara will get attractive discounts on ticket booking, hotel and restaurant and adventure sports while buying airline tickets from Esewa platform. Participants can claim the cashback in hotels and adventure sports by filling in the details in "Jau Hai Pokhara" category in eSewa app and website.
In order to get a discount on hotels and adventure sports, you have to pre-book the services from Esewa or show your air ticket. At present, various promotional activities are being carried out to make Visit Pokhara campaign successful by collaboration of Western Hotel Association Pokhara and Esewa.
Esewa which provide various online payments from mobile and internet has now 4.2 million members on it's platform. Almost 16 million people are indirectly reaping benefits from the company's services.
At present, Esewa has more than 110,000 agents (Esewa zones and cash points) across the country. Currently, the number of merchants in Esewa has exceeded 3.2 million.
One can pay insurance premiums, share transactions as well as mobile, telephone, internet, electricity and drinking water bills, recharge, airplane, bus tickets, school and college fees.
Esewa currently has 50 banks and financial institutions as partners. Esewa members can easily deposit money or send money from one partner bank to another using various Esewa services.