FIFA World Cup Football 2018 schedule in Nepali Standard Time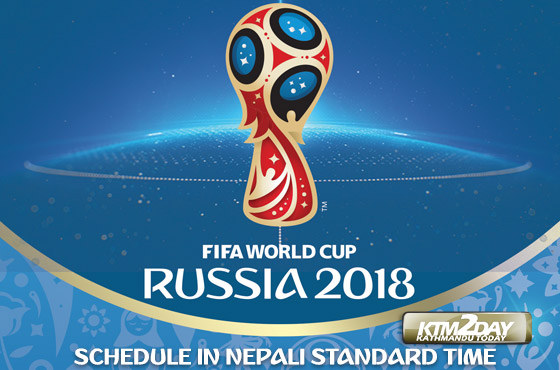 The 2018 FIFA World Cup will be the 21st FIFA World Cup, a quadrennial international football tournament contested by the men's national teams of the member associations of FIFA. It is scheduled to take place in Russia from 14 June to 15 July 2018,after the country was awarded the hosting rights on 2 December 2010.
The final tournament will involve 32 national teams, which include 31 teams determined through qualifying competitions and the automatically qualified host team.
Of the 32 teams, 20 will be making back-to-back appearances following the last tournament in 2014, including defending champions Germany, while Iceland and Panama will both be making their first appearances at a FIFA World Cup. A total of 64 matches will be played in 12 venues located in 11 cities. The final will take place on 15 July at the Luzhniki Stadium in Moscow.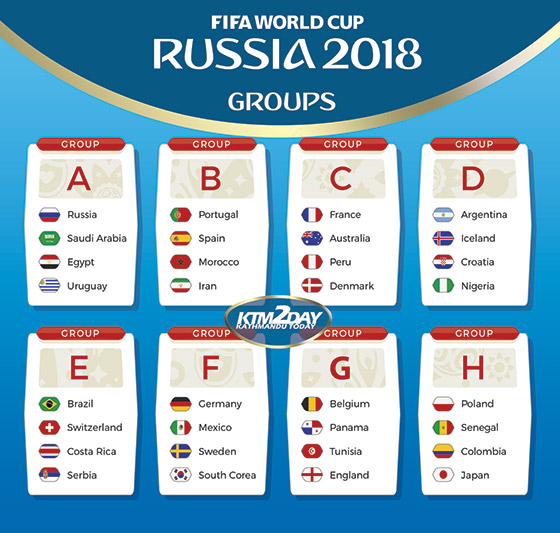 GROUPS TABLE WITH POINTS  —>

Click Here
Schedule in Nepali Standard Time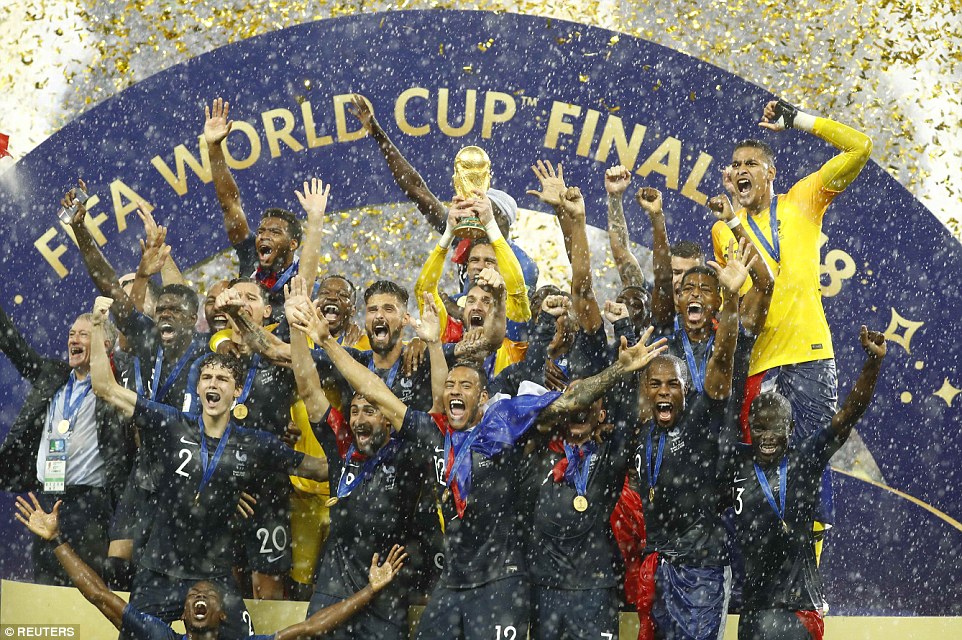 The 2018 World Cup is over, and 20 years after capturing France's first World Cup in home soil in 1998, Les Bleus brought the trophy back home on Sunday with a thrilling 4-2 victory over Croatia. It was the usual suspects scoring on Sunday, with Paul Pogba, Kylian Mbappe, Antoine Griezmann and, of course, the own goal giving France a 4-2 victory over a Croatia team that had an amazing run.
SEMI-FINALS
Tuesday 10 July मङ्गलवार आषाढ २६, २०७५
10 JUL 2018 – 21:00 Local time
SEMI-FINALS
St. Petersburg Stadium,St Petersburg
France
1 – 0
Belgium
Wednesday 11 July बुधवार आषाढ २७, २०७५
11 JUL 2018 – 21:00 Local time
SEMI-FINALS
Luzhniki Stadium,Moscow
Crotia
2 – 1
England
PLAY-OFF FOR THIRD PLACE
Saturday 14 July शनिवार आषाढ ३०, २०७५
14 JUL 2018 – 17:00 Local time
PLAY-OFF FOR THIRD PLACE
Saint Petersburg Stadium
Saint Petersburg
Belgium
2 – 0
England
FINAL
Sunday 15 July आइतवार आषाढ ३१, २०७५
15 JUL 2018 – 18:00 Local time


FINAL


Luzhniki Stadium, Moscow
France
4 – 2
Croatia
---
FIFA WORLD CUP 2018 PRIZE MONEY BREAKDOWN
STAGE
2018 WC PRIZE MONEY
2014 WC PRIZE MONEY
Preparation Fee for 32 qualified teams
$1.5 million each
$1 million each
Group Stage (16 eliminated teams)
$8 million each
$8 million each
Round of 16 (8 eliminated teams)
$12 million each
$9 million each
Quarterfinal (4 losing sides)
$16 million each
$14 million each
Fourth Place Team
$22 million
$18 million
Third Place Team
$24 million
$20 million
Runners-up
$28 million
$25 million
Winners
$38 million
$35 million