Government publishes list of public holiday for year 2078 BS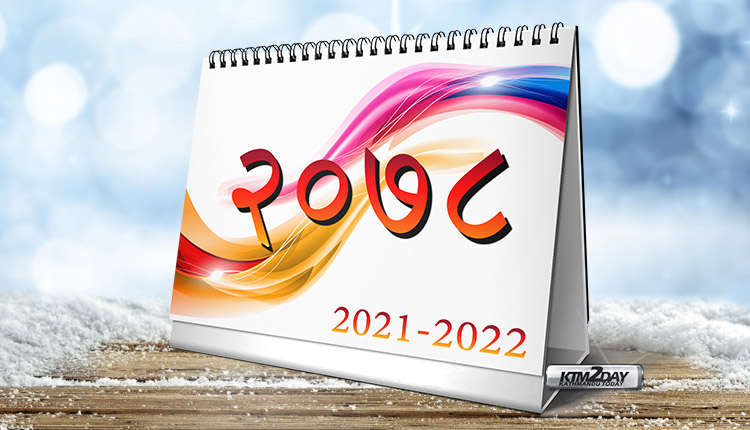 In 2078 BS, the government has added 5 more days to the list of public holidays. The Ministry of Home Affairs has published the information in the Nepal Gazette on Monday and has made a list of public holidays from Baisakh to Chaitra, 2078 BS. According to the list, the holidays of Raksha-Bandhan, Ghatasthapana, Chhath Parva, Maghe Sankranti, Republic Day and Democracy Day have been added.
According to the list, there will be 52 public holidays on Saturdays throughout the year. Similarly, New Year (April 14), Labor Day (May 1), Buddha Jayanti (May 26), Republic Day (May 29), Constitution Day (September 19), Rakshabandhan (August 22), Ghatsthapana (October 7) , Bada Dashain (October 12 to 16), Tihar Bida (November 4 to 7), Chhath Parva (November 10).
Also Check : Nepali Calendar
Similarly, there will be a holiday on Democracy Day (February 19), Shivaratri (March 1), Women's Day (March 8), and Phagu Purnima (March 17 in 56 hilly districts and March 18 in 21 Terai districts). By doing so, the total leave will be 67 days, but the final count will be limited to 64 days as public holidays of Constitution Day, Dashain and Tihar all fall under Saturday.
Apart from this, Gaijatra (August 23), Indrajatra (September 19), Ghodejatra (April 1) and Machindranath's Bhoto will be held in Kathmandu Valley. Women will be given leave on September 9 for Haritalika Teej.
Similarly, Ubhauli Festival (May 26), Gaura Festival (August 30), Eid-ul-Fitr, Eid-ul-Azha, Christmas Day (December 25), Tamu Lhosar (December 30), Sonam Lhosar (February 2), Gyalpo Lhosar (March 3). Arrangement has also been made to provide leave to the concerned caste, region or district during Siruwa Pawani festival and Dhavathambu Chheuchik festivals.
Jitia Festival (September 29) will also be given leave to female employees celebrating Jitia Festival.
Similarly, educational institutions will be closed on February 6 for celebrating Basanta Panchami festival or Saraswati Pooja. On the International Day of Disabled Persons 2021, leave will be given to employees with disabilities on December 3.
Employees of the respective religions will also be given leave on the birth anniversary of Mahaguru Falgunand on November 11 and on the birth anniversary of Guru Nanak on December 1.
Although the National Day for the Elimination of Racial Discrimination and Untouchability (June 4), Civil Service Day (September 7), National Unity Day (January 11) and Martyrs' Day (January 30) will be celebrated as National Day, no public holiday will be granted.
It has been stated that the diplomatic missions of the government can manage the leave for a maximum of 18 days according to the leave of the country concerned.
Office hours will be limited to 10 a.m. till 4 p.m. in-between November 2 and January 29 and from 10 a.m. to 5 p.m. rest of the year. Offices will be open half day only until 3 o'clock on Fridays.