Green Tyres Nepal starts manufacturing tractor tyres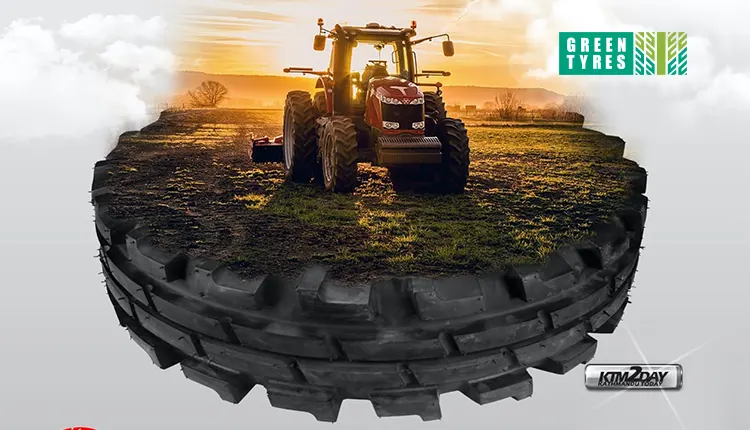 Green Tyres, Nepal's first private private tyre manufacturing facility located in Kathari, Morang has now started commercial production of tractor tires with an added investment of Rs 150 million. The industry, which opened four years ago with an investment of Rs 500 million, has been producing tires for two-wheelers including motorcycles, scooters and autorickshaws.
The industry, which manufactures motorcycles, scooters and other three-wheeler's tires under the 'Delta' brand, has started producing 'Sherpa' brand of tires to be used in tractors. Nepal's largest business group Vishal Group is the owner of Green Tyres Nepal which is technically assisted by India's Future Tire.
"We have started producing tyres for the tractor segment with an additional investment of Rs 150 million," said Binit Singhania, manager of the industry. The company has plans with a target of producing at least 20,000 units annually.
Under the same Sherpa brand, the company also aims to manufacture tyres for tractor trolleys from next November. Machines are being installed to produce tractor trolley tires. The target is to produce tires for trolleys at the rate of 20,000 units per year.
In the next two years, the industry is set to produce all types of tyres for bus, car, jeep and vans.
Export to India
The industry has already started the process of exporting its products to India. Tire exports are likely to be exported to northern states of India including UP, Bihar, West Bengal, Meghalaya, Assam and Sikkim.
As most of the tire industries in India are located in South India or West Gujarat, the transportation cost from there to North India is high. If tires produced in Nepal are to be exported to North India, it will be cheaper than Indian products due to lower transportation costs.
Green Tyre has already got ISO certification from the Government of India and has started the process for certification of BIS (Bureau of Indian Standards). Tires can be exported to India only after obtaining BIS certificate.
The Indian government has given protection to its tire industry. Accordingly, the size of the tires produced there is not available in India for export. "But there is also the possibility of exports," Singhania said. There are thousands of types of tires and not all types of tires are made in India. We can produce such tires and export them. '
He said the industry was also in the process of exporting to Bhutan and Bangladesh. Singhania said the industry has a state-of-the-art tire testing laboratory.