Kent RO brings New Year offer 2078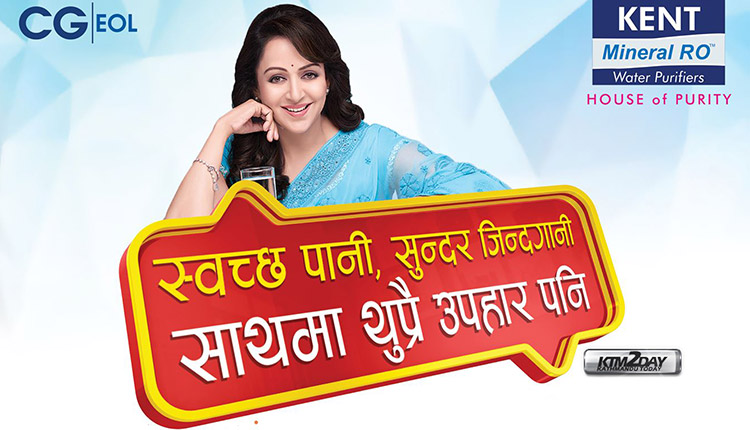 EOL Pvt. Ltd, under the Electronics division of the Chaudhary Group umbrella is the sole distributors of Kent water purification products in Nepal. The company has launched a new year offer targeting customers for healthier lifestyle with its state of the art water purification products from Kent.
Kent RO, which is very popular among the consumers in the water purification market in India and Nepal, is targeting the New Year 2078 with with the slogan 'Clean Water, Beautiful Life and Many Gifts; Let's celebrate this New Year, 'Happiness with Kent RO'.
Under this offer, customers who purchases any of Kent's RO models will get a chance to participate in the 'Lucky Draw' . Through the monthly lucky draw program customers will get a chance to win LG's convection microwave oven, LG refrigerator and LG's LED TV.
Additionally 3 lucky customers will get a chance to win a Godrej Viroshield disinfecting device and 1 lucky winner will get to win Honda Dio DLX scooter as a bumper prize.
Customers who have purchased any of the Kent RO products from Chaitra 8, 2077 will be able to participate in the company's monthly lucky draw and bumper lucky draw.
To participate in the Lucky Draw, customers have to type : Kent RO (Space) Name (space), address (space), date of purchase (space), product model name (space) and serial number and send an SMS to 37001.
The company has stated that this scheme will be valid throughout Nepal for a limited period only.
Every year millions of Nepalis are infected with waterborne diseases and thousands lose their lives. Drinking unhygienic water can contain high levels of TDS, bacteria, viruses, pesticides and other harmful chemicals.
Also, water supplied to homes comes through rust and old pipelines and is stored in unhealthy tanks. It is very important to make sure that the water is pure before drinking. Therefore, the company claims that treated water from Kent RO is an important requirement for the healthy life and well-being of our family.
Kent's products are known for their health and hygiene. Other Kent brand water purifiers, air purifiers, vacuum cleaners, disinfectants and smart kitchen appliances are also available from the company's stores located all over major cities in Nepal.