Morris Garage launches MG HS in Nepali market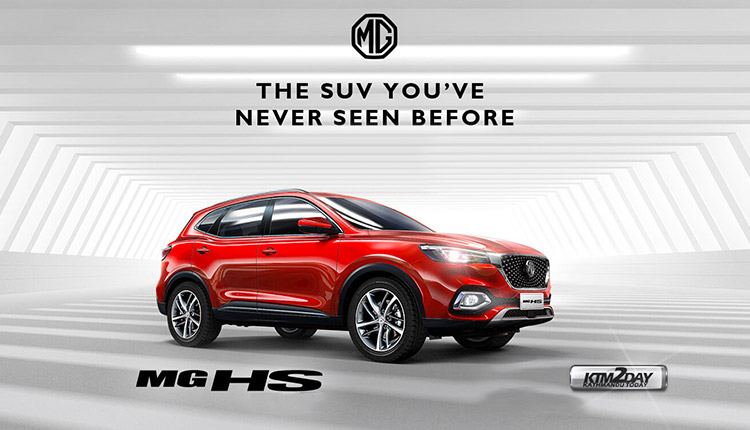 British automobile brand Morris Garage has launched it's new model MG HS SUV in the Nepali market.
Paramount Motors, MG's official distributor for Nepal, has started distributing pre-booked vehicles even though the vehicles have not been officially made public.
Paramount Motors has stated that it is preparing to launch the HS SUV in a few days.
Also Check : Morris Garage Rolls Out 2 Subcompact SUVs In Nepali Market
"We have started distributing vehicles to the customers who have pre-booked the vehicle," said General Manager Sachin Aryal. "We are preparing for the official launch soon."
The company has already put the new HS model vehicles for display in it's showroom. The MG HS SUV, launched as the 'All New Stylish SUV', has a dual front and side curtain airbags.
With its distinctive British styling, diamond cut alloy wheels and chrome roof rails, the MG HS is not only beautifully proportioned, but an SUV designed with sporting heritage in mind. Sequential front and rear LED indicators, distinctive grille and the oversized panoramic sky roof offer a level of refinement that
redefines style in the SUV space.
The HS has a 1.5-liter turbo petrol engine. The company claims that it will generate 162 PS of power at a maximum of 5600 rpm and 250 Nm of torque at 4400 rpm. The vehicle with a 7-speed automatic gearbox has a maximum speed of 190 km per hour.
The interior of the HS is intuitively designed to deliver a driving experience that is not only comfortable but light, spacious and enjoyable.
From interior door trim to the leather seats, rich, soft touch materials provide a luxurious feeling.
Features
To make the car driver-friendly, there is a panoramic sunroof with LED daytime running lights, blind spot detection, 360 degree camera, auto hold, electric parking brake, disc brakes on front and rear, AWD and anti trip.
The company says that it has features like self-adjustable driving seat and passenger seat, both front seats can be heated, automatic folding and outside rear view mirror can be heated in cold weather.
The car has a 10.1-inch infotainment system which supports Apple CarPlay and Android Auto. It has 18-inch alloy wheels and full leather seats that make both the interior and exterior of the car premium.
MG HS Price in Nepal
The starting price of the HS SUV has been set at Rs 79,99,000. The vehicle will be available in three different colors – black, white and red colors.