The middle mouse button has more to offer than just scrolling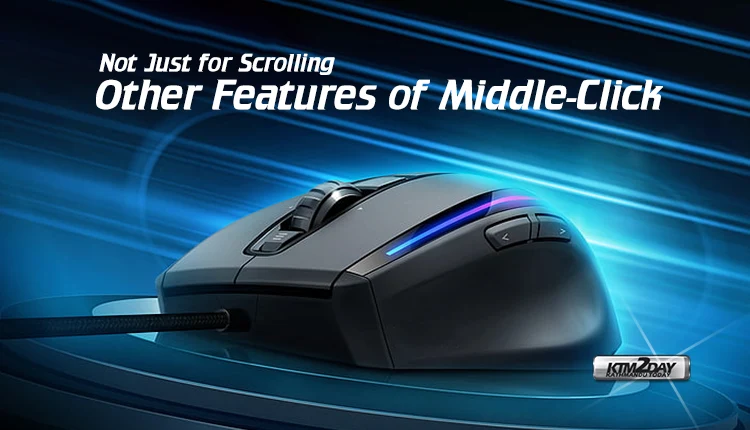 People who grew up with mouses without scroll-wheels know that it's one of the nicest features, but not everyone uses it to its fullest potential because it can also be used as a button or "central click" if you prefer.
In this article, you'll learn about the advantages of a touchpad over a traditional mouse with three or more buttons. Many tasks may be performed with a single click of the mouse wheel, saving you a significant amount of time over the course of a day. Here are a few examples:.
Other Features of middle mouse button in Windows
Right-clicking isn't the only helpful click you can make on Windows (new and prior versions) to do a variety of rapid operations, but it's the most prominent one.
Any taskbar icon that is clicked with a middle mouse button launches a new window of the associated application.
In the taskbar, hovering the mouse pointer over an app icon brings up a thumbnail of all the open windows for that app; clicking(middle-click) on any of these thumbnails closes the window.
Just open the Windows Settings, scroll to Bluetooth and devices, and search for the Touch Panel options if you wish to replicate the centre click on a touchpad. You can change the default action in the Press menu to "Middle mouse button" by searching for "Three-hand gestures" in the Gestures and Interaction section. As a result, when you press the touch panel with three fingers, a mouse wheel click will be executed.
The middle mouse button in your browser
When you learn that you can use the middle click to open and close windows in Windows as well as close web tabs, it becomes even more enjoyable.
To shut a browser tab, middle click on the particular tab.

To launch a link in a new tab, simply press the middle mouse button on any webpage link.

If you want to open a previous page in a new tab, simply middle click on the "Back" button on your browser.
Similarly, if you want to open following pages in a new tab then click on the "Forward" button.
If you want to load an updated page in a new tab, you can also click on the "Refresh or Reload" button with a middle click button.
If you want to open a preset homepage in a new tab, then simply click on the "Home" button with a middle mouse.
If you want to scroll a webpage then press the middle mouse button on the center of the screen.
Clicking with a middle mouse on any automatic suggestions while performing search opens the result in a new tab.