Nepal Telecom plans to roll out 5G service by mid-July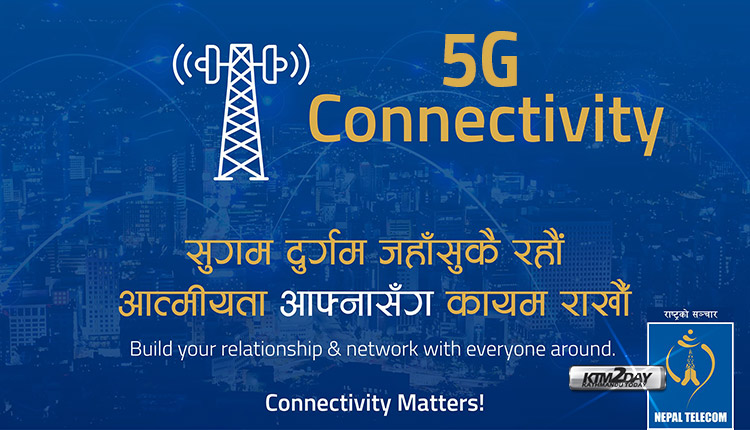 Nepal plans to roll out 5G mobile internet by mid-July as it races to become the first country in South Asia to offer super fast connectivity.
Fifth generation wireless mobile networks will be set up in Kathmandu and three other major cities under a pilot project by the end of this fiscal year.
Min Prasad Aryal, director of the Nepal Telecommunications Authority, said they had submitted a proposal on February 1 to the National Frequency Determining Committee under the Ministry of Information, Communication and Technology to issue a separate frequency for 5G operation.
The ministry is studying the proposal, officials said. Anup Nepal, chief engineer at the ministry's Frequency Management and Analysis Division, said they were carrying out additional studies on the proposal.
"The decision may most likely come by next week," he told the Post. He added that they would first identify the spectrum required for installing 5G technology.
"The service will then be tested in multiple geographical locations, and feedback will be collected before it goes into commercial operation," he added.
According to Nepal, 5G will be tested using different bands and suitable ones will be selected. "The 5G trials may take two-three months or even a year."
Once the frequency for 5G operation is separated, state-owned telecom giant Nepal Telecom will start trial operation.
For commercial operation, the telecom regulator has started doing homework to fix the frequency band, spectrum, distribution process, pricing and other possibilities, Aryal said.
The frequency band needs to be separated for trial operation and commercial use, he added
On Thursday, addressing the 23rd anniversary of the Nepal Telecommunications Authority, Information Minister Parbat Gurung said that they had started preparations to roll out 5G network by piloting it in four major cities in the country.
Nepal currently has 4G networks that were established in January 2017.
According to Nepal Telecom, 4G service has reached all 77 districts in the country, covering 654 local units, or 85 percent of the population. The authority said that 75 percent of the population used devices that are 4G supportive.
The fifth generation 5G technology standard for cellular broadband networks offers faster connections, higher throughput and more capacity than 4G, and will benefit areas of high traffic such as public places.
The government will work to expand the 5G network under the Digital Nepal Framework 2018.
Nepal Telecom has conducted tests for interference that can happen in a 5G network, and encountered interference while using a band proposed by the authority in a preliminary study. A meeting is expected to be held between the ministry and the authority to resolve this matter.
Dilli Ram Adhikari, managing director of Nepal Telecom, said they had asked their 4G equipment and service supplier to provide 5G equipment to conduct a trial.
"As soon as they submit a report and recommend an appropriate modality for the trial phase, we will start piloting in the selected cities," he said. "If things go as planned, we may begin the 5G trial by the end of this fiscal year."
Nepal Telecom currently has basic infrastructure for a 5G network which needs to be upgraded, Adhikari said. "After the spectrum is identified and is approved, we can procure additional equipment for the 5G network. They will be installed on the existing telecom towers," he said.
When asked if the 5G network would be expensive, Adhikari said they had not calculated the cost yet.
"Once the piloting is successful, we will issue a global tender to buy the equipment. A cost analysis will also be made at that time," he said.
According to the latest management and information report of the authority, internet access has reached 82.79 percent of total population with 60.34 percent mobile broadband users.
The number of 4G users had reached 6.68 million as of mid-January, including 2.38 million 4G subscribers of Nepal Telecom, 4.08 million subscribers of Ncell and 219,708 subscribers of Smart Telecom.
According to reports, Hong Kong, Seoul, Sydney, Taipei, Manila, Tokyo and Shenzhen have already introduced 5G networks. In May 2020, Bangkok became the first city in Southeast Asia to roll out a 5G network, while Singapore in August started a six-month trial.