'No safer place to be than with Gurkhas' – Harry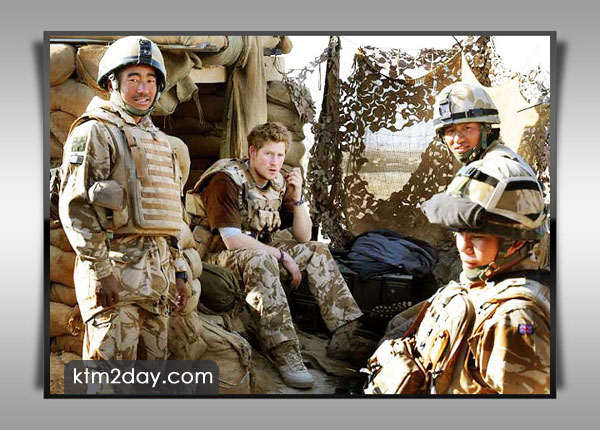 Prince Harry has praised Gurkha soldiers he has been fighting alongside in Afghanistan.
The 23-year-old was even given a traditional kukri knife by the fearsome troops, who have close links with Kent.
The third in line to the throne has been based with the 1st Battalion, the Royal Gurkha Rifles, who trained in Folkestone before being sent to Afghanistan.
The prince, who has been working as a battlefield air controller, directing air strikes on Taliban soldiers, said: "When you know you are with the Gurkhas I think there's no safer place to be really.
"They're armed with kukris so if they run out of ammunition they will charge you with their massive swords, as the enemy call them."
Prince Harry was reportedly with Gurkha soldiers when they were involved in a firefight with Taliban troops only 500 metres away.
The 1st Battalion Royal Gurkha Rifles has its garrison in Brunei, whereas the 2nd Battalion is stationed in Folkestone's Shorncliffe Barracks.
Brigadier Iain James, Commanding Officer of 2 (South East) Brigade, is responsible for both units. He is based at Shorncliffe Barracks in Folkestone.
An Army spokesman for him would not comment on Prince Harry's work with the Gurkhas, but said of the famous Nepalese fighters: "They are one of the world's most fearsome fighting forces.
"They are consummate professionals and they've earned the respect of armies around the world."
Prince Harry reportedly trained with the Gurkhas in the Brecon Beacons last summer.
Source: Kent News


What is KHUKRI?
The kukri (Devanāgarī: खुकुरी) is a heavy, curved Nepalese knife used as both tool and weapon. It is also a part of the regimental weaponry and heraldry of Gurkha fighters. It is known to many people as simply the "Gurkha Blade" or "Gurkha Knife".
The name is pronounced khu-koo-ree. Although khukuri, "khukeri" or khookree are more accurate transliterations, kukri is the most well-known spelling of the name of this blade style. In early English writings there were many and diverse spellings of the name.