Sarbottam Cement IPO issuance process moves forward, 35% dividend to investors in 3 months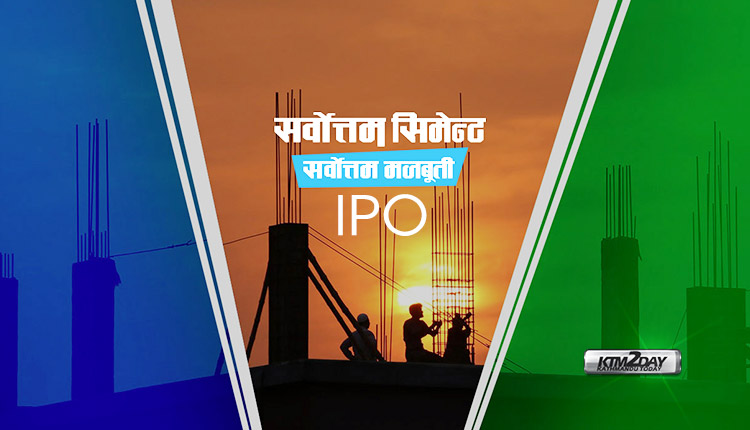 Sarbottam Cement has taken forward the process of issuing IPO through book building method.
The company on Wednesday organized a program to appoint a securities issuance and sales manager for IPO issuance and informed that the process of issuing IPO has been taken forward by determining the price of the new book building process recently brought forward by the Nepal Securities Board.
The company will issue 6 million shares worth Rs 600 million, which is 15 percent of the paid-up capital.
Out of the total shares to be issued, 2.4 million shares have been allotted to institutional investors, 800,000 shares to local district residents and company employees and the remaining 2.8 million shares to the general public.
The company believes that the company's share price could be more than Rs 750 per share after studying the company's internal valuation and some bases. However, the final price will be determined by the bidding method by the institutional qualified investors, the company said.
The company has decided to pay a total dividend of 35 percent by giving 10 percent bonus share and 25 percent cash dividend within the first 3 months after the issuance of the IPO . The company claims that investors can directly claim earnings of Rs 100 per share.
For the IPO issue, the company has appointed Global IME Capital as sales manager and NIBL ​​Ace Capital and Prabhu Capital as assistant sales managers.
At present, the company's paid-up capital is Rs 3.40 billion. The company's paid-up capital will reach Rs 4 billion after the IPO sale.
The company appears to be better than average for investors as it received an IPO rating of Triple B+ from ICRA. Also, according to the ICRA rating, the company's limestone and transportation costs are lower than other cement industries, so the company can claim higher returns.
The company was established in 2067 BS. It was established under the leadership of Bishnu Prasad Neupane along with seven local and foreign investors. The company started producing and selling clinker in 2071 BS and started producing cement in 2073 BS.