Ssyangyong to provide discounts upto 5 lakhs in New Year offer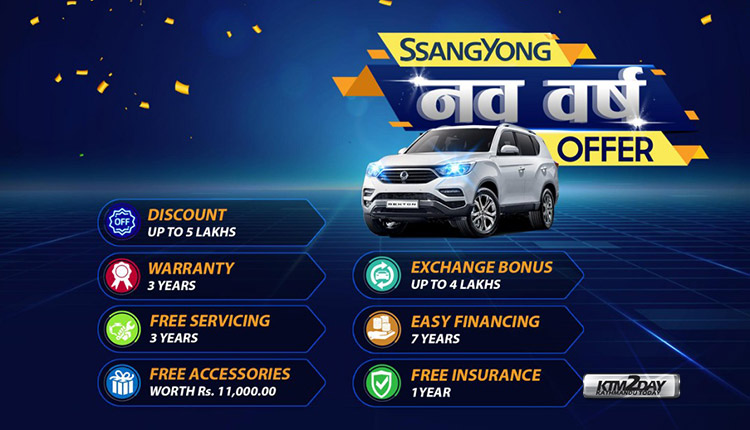 IMS Motors, the official dealer of Ssangyong Motors for Nepal and under IMS Group, has brought "Ssangyong New Year Offer" on the occasion of New Year 2078 BS.
IMS Motors has unveiled various attractive schemes including cash discount on the purchase of Ssangyong vehicles. Under the scheme, a cash discount of up to Rs 500,000 can be obtained when buying a new vehicle and an additional bonus of up to Rs 400,000 can be obtained when exchanging a brand new SUV with an old one.
The scheme is said to be applicable to Rexton and Tivoli SUVs. Korean brand Ssangyong has been producing premium SUVs and selling them in the world market.
The price of Rexton in the Nepali market has been fixed at Rs 1,54,99,000 Tivoli Manual at Rs 66,99,000 and Tivoli Automatic at Rs 75,99,000.
Similarly, 3-Year of warranty, 7-Years of Easy financing, 3-Year Free Servicing, 1-Year of free insurance facility and accessories worth Rs 11,000 will be provided, the company said.
The company has stated that the New Year offer will be valid only till 31st of Baishakh 2078.