Nepal Traffic Police launches instant on-the-spot fine pay system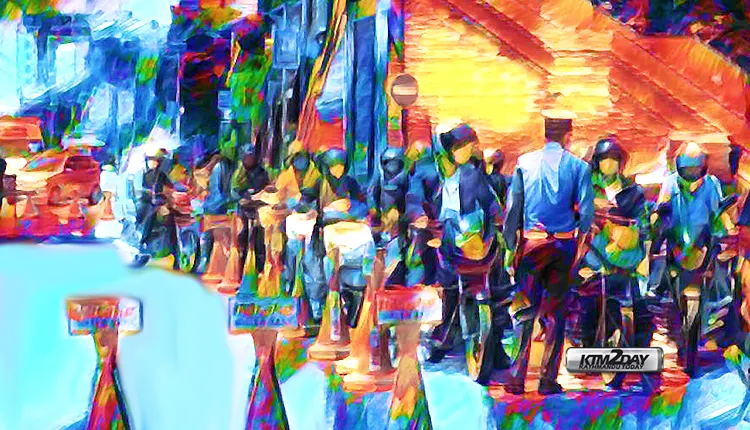 The traffic police have implemented a mechanism that allows traffic rule violators to pay the appropriate fine and immediately retrieve their documents, including their driving license and blue book. 'Pay Fine On-the-Spot: Instant Payment System' for the Kathmandu valley has been launched, according to Senior Superintendent of Police Janak Bhattarai, in-charge of the Metropolitan Traffic Police Division, who made the announcement today.
The use of a mobile app allows any driver or biker who is stopped by on-duty traffic while in the process of breaking the regulations to have their documents returned after paying the specified fine using the app.
Previously, traffic police would issue a 24-hour violation ticket, and the rule offender would have to go to the designated station and pay the fine through the banking system in order to be able to collect the documents that the cops had taken custody of.
After being implemented in regions under the jurisdiction of the Gaushala, Durbar Marg, Thapathali, Jawalakhel and Janasewa traffic police beats for a period of time, SSP Bhattarai indicated that the system would be expanded to other places in the valley.
Traffic rule violators will no longer be required to rush to the designated stations in order to receive their documents back the following day.
They have the option of paying an on-the-spot fine and reclaiming the documents that were taken away by on-duty police officers.
This method, on the other hand, will not be applicable for driving under the influence, as well as for violations of lane discipline and red light violations.
Drivers and riders who fall into this category will only be able to get their documents back after attending an orientation seminar offered by traffic police.
Other types of traffic rule violations include failure to obey traffic signals, using a mobile phone while driving, parking vehicles in no-parking zones, failing to wear a seat belt, mechanical modification of bicycles, overloading vehicles, overtaking from the wrong side of the road, violating the one-way traffic rule, and reckless driving, among other things.
Biker ignorance of traffic regulations is at the top of the list of offenses, with the most common being a failure to maintain lane discipline.
Violations of traffic rules are punishable by a fine of at least Rs 500 and a maximum of Rs 1,500. The use of closed-circuit television, dashboard cameras, and go-pro cameras has also assisted in reducing violations.