Chainsmokers and 1974 AD to collaborate for Tuborg Open music campaign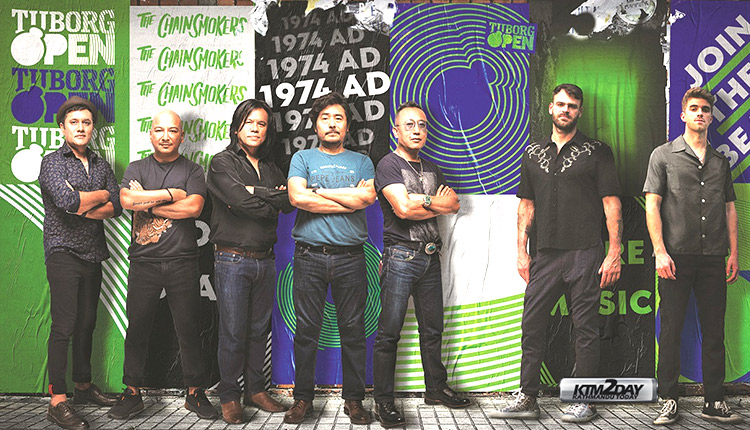 Danish lager brand Tuborg has announced the launch of its Tuborg Open campaign this year.
In this year's campaign, new music will be introduced to music lovers across the country in collaboration with Grammy Award winning artist duo 'The Chainsmokers'.
Recently, The Chainsmokers, one of the world's most popular artists, has been collaborating with Nepal's popular folk-rock band 1974 AD with the Tuborg Open to encourage music lovers to join the campaign.
The Chainsmokers are an American electronic DJ and production duo consisting of Alexander "Alex" Pall and Andrew "Drew" Taggart., which gained worldwide fame in 2016 with hits such as 'Don't Let Me Down', 'Kindness' and 'Closer' with 'Halsey'. In December 2018, The Chainsmokers released the album 'Sick Boy', which has received over 1 billion streams so far.
"We are very excited to be working with a very successful group in this region," said Alex Pall, looking forward to working with 1974 AD. This is the main goal of this project. "
He added, "Tuborg has been able to connect artists from two corners of the globe, otherwise it would have been very difficult for the two of us to get to know or keep in touch. Also, now that we are in Nepal, we have friends to mingle with. "
Tuborg Open encourages people to be 'open to more' through music, bringing together artists from different cultures and backgrounds around the world.
Commenting on the project, Drew Taggart said, "We're always looking for new ways to work with other creative artists around the world. We've done a lot of musical collaborations, we've done more than 30 collaborations with our own songs, and that process has taught us a lot. It's always been important for us to give this kind of opportunity to other artists. "
Speaking about this year's campaign, 1974 AD said, "This is a completely new experience for us and we feel we have pushed ourselves to think outside of our style. It is a great opportunity for us to collaborate with The Chainsmokers and we are sure that our audience will be happy to hear the results of this collaboration. As musicians, we love making music and working with different artists and we want to thank Tuborg for making this possible. We are all waiting for the release of the song."