Ncell brings Rs.1.99 flat-rate calls across networks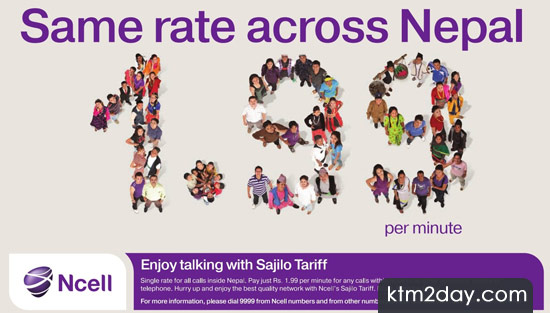 Ncell – the first private telecom operator in the country – has introduced uniform call tariff plan. As per the new plan, which comes into effect from Tuesday, Ncell will charge Rs 1.99 per minute for calls made on any network.
Issuing a press statement, Ncell said the new plan has been introduced as a part of providing easier and cheaper services to people. "We have always maintained that telecom services should be made easier and cheaper for everyone to benefit from it. We are delighted to say that we have materialized it," Pasi Koistinen, CEO of Ncell, said.
"Our users earlier were confused as to how much they were spending on calls because of the complex interconnection charges between various service providers. Now, it will be very easy for them to estimate because all calls made on any network from Ncell will cost only Rs 1.99," Koistinen said in the statement.
However, customers will not get friends and family service and night tariff plan after the new plan comes into effect. Existing subscribers need to type ´sajilo´ and SMS to 302 to migrate to Sajilo Plan of Rs 1.99 per minute, the statement added. Ncell´s new subscribers will automatically be listed in the Sajilo Plan.
With the introduction of the new tariff plan, Ncell now has two tariff plans – Ramro with on-net offers and different rates and Sajilo with a uniform rate. As a part of providing better services to its customers, Ncell had introduced new dialing system and made some changes in its existing dialing system.
Now, Ncell users no longer need to add ´0´ prefix to connect with other GSM numbers. The company is offering handset and SIM card at just Rs 999 to customers in 13 zones across the country.
| | | |
| --- | --- | --- |
| | Previous Dialing Format | Current Dialing Format |
| Ncell 980 | 0980xxxxxxx | 980xxxxxxx |
| Ncell 981 | | 981xxxxxxx |
| Other Landline | 0-area code-telephone number | 0-area code-telephone number |
| | +977- area code-telephone number | +977- area code-telephone number |
| Other Mobile | 0984/0985/0972xxxxxxx | 984/985/972xxxxxxx |
| | +977985xxxxxxx | +977985xxxxxxx |
| International | +country code-area code-number | +country code-area code-number |
| | 00-country code-area code-number | 00-country code-area code-number |