Nepal's 75 districts to be connected by optical fibre in 3 years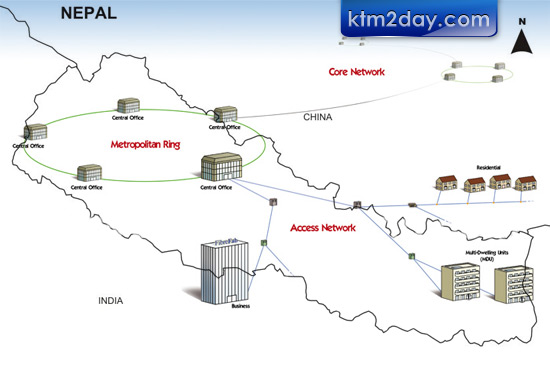 The government will soon invite tenders to expand the optical fibre network to all 75 districts. The Nepal Telecommunication Authority, the regulatory body of the telecom sector, is putting the final touches to the Request for Application.
The NTA had started the District Optical Fibre Network Project last year with the aim of expanding the system across the country by 2014 to improve access to broadband internet service. The project is estimated to cost Rs. 6 billion.
NTA director Ananda Raj Khanal said that the project would be completed within the next three years if the contracts could be awarded by the current fiscal year. "Telecom operators and internet service providers can bid for the contract as a consortium or individually," he added.
The NTA said that the Request for Application would be completed within a month and that a notice would also be published to inform interested telecom operators and internet service providers.
Funding for the project will come from the Rural Telecommunication Development Fund in which there is around Rs. 2 billion currently. The project work will be carried out on a phase-wise basis, and fund shortages can be managed from other sources if necessary, said the NTA.
The government is also set to introduce a broadband policy which will be implemented from the current fiscal year. "As every nation in the world is going broadband, an optical fibre network has become a must for developing the information and communication technology," said Khanal.
Meanwhile, Nepal Telecom is working on a plan to establish an optical fibre connection with China by the end of the current fiscal year. NT's optical fibre connection plans to link NT´s network with China Telecom´s network from Tatopani and Rasuwa stations.
Once the optical fibre connection with China is set up, the cost of telecommunication services to and from other countries is expected to drop significantly. Currently, NT is linked with India through the East-West optical fibre connection, and it has been sending and receiving data from Hong Kong, Korea, Japan and other countries through India. NT uses satellite technology to connect with Europe and the US.