NAC aircraft deal in December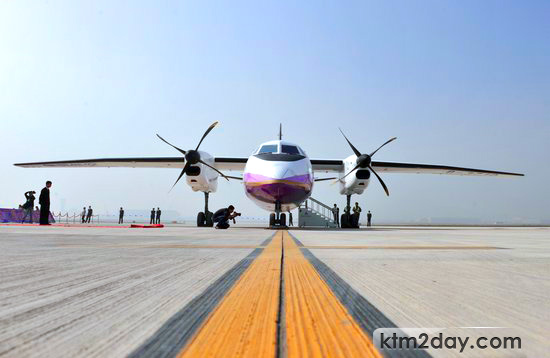 The umbrella agreement between Nepal and China that has been planned in December will finally approve the purchase of turbo powered aircraft Modern Ark 60 (MA-60) and Y-12 for Nepal Airlines Corporation (NAC).
"During the visit of Chinese prime minister Wen Jiabao in December the country is entering into an umbrella agreement that will pave way for the purchase of MA-60 and Y-12 aircrafts," said executive chairman of the corporation Manrup Shahi.
The corporation has been planning to purchase ninteen-seater Y-12 and 56-seater MA-60 and has also sent a technical team to China to study its technical aspect and viability.
But the meeting between the two higher level leaders of the two countries will also finalise whether Nepal is purchasing the aircraft on grant or soft loan facility, Shahi, said, adding that the technical report has recommended the purchase of five Y-12 and three MA-60 aircraft, with either half on grant on on Soft loan facility.
The number of aircraft will also depend on the production capacity of the company. The technical team has submitted its report on Friday.
After the high level discussion, Civil Aviation Authority of Nepal (CAAN) and Civil Aviation Authority of China also will discuss on the technical rules and regulation for the flight operation.
"Both of the aircraft MA-60 and Y-12 are well built with European and American parts and Canadian engine which are well known for quality performance," said NA technical representative Ganesh Thakur. "MA-60 is a certified aircraft of Civil Aviation Authority of China and can be used for flight operation in Nepal too."
It is a turboprop-powered airliner made by China's Xi'an Aircraft Industrial Corporation under the China Aviation Industry Corporation I. "The same company which manufactures the MA-60 is also the manufacturer of different parts of Airbus, Boeing and ATR which is used worldwide," he added.
Investigation on progress
KATHMANDU: Nepal Airlines Corporation (NAC) said that it is investigating the theft and misplacement of aircraft equipments and essential parts. According to the ailing national flag carrier, it has formed an investigation committee that will submit its report after the completion of investigation. The corporation has already claimed compensation from Airport Customs for the missing landing gears. "Similarly, after the investigation report comes of the missing tyre and fly away kits, the corporation will take necessary action," it said. (Source:THT)