Embossed number plates from next year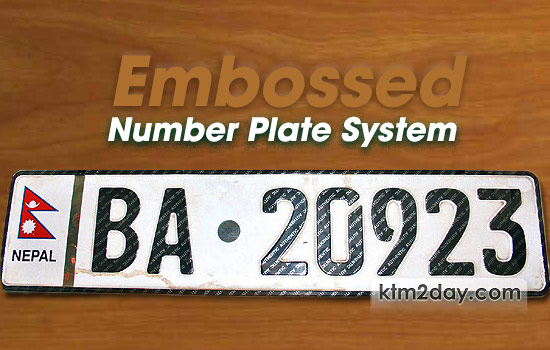 The government has planned to implement the long-touted embossed number plate system for automobiles from the next fiscal year. It has set the target to have the scheme in place by mid-July next year.
The Department of Transport Management (DoTM) has been working on preparing the bid documents and terms of reference (ToR) for the new license plates. Originally, the embossed number plate system was planned to come into effect during the three-year interim plan 2007-10.
However, it could not happen for lack of laws and intervention by the Commission for Investigation of Abuse of Authority after a report of irregularity by the then Minister for Labour and Transport Management Mohammad Aftab Alam in 2010. Last year, the government amended the Transport Management Regulation 1997 to make the embossed number plate mandatory.
The Ministry of Labour and Transport Management revived preparations to implement the license plates a few months ago following a directive from the Office of the Prime Minister and Council of Ministers. The Ministry of Finance and the National Planning Commission have agreed to the plan in principle.
Anil Gurung, under secretary at the Transport Ministry, said that the DoTM had been working on the bid documents and features to be added in the new system. "Once this system comes into effect, the department will start issuing embossed number plates to new vehicles first from mid-July next year, and gradually replace the license plates on all the vehicles across the country," he added.
There are an estimated 1.2 million vehicles in the country including 800,000 motorbikes. As per the plan, the government will replace the traditional handwritten plates and provide each vehicle an extra security sticker that will contain information about the vehicle and its owner. "The sticker, known as the third plate, will contain vital information about the owner, the vehicle and taxes paid to the government," said Mohan Bhattarai, an engineer at the department. He added that the type of information to be maintained in the machine readable stickers and distribution mechanism of the embossed number plates would be decided later.
The plan is targeted to ultimately help the government to maintain uniformity in license plates, maintain digital records of vehicles, collect revenue on time and control auto theft. (Source:ekantipur)