Construction of second Int'l airport to begin soon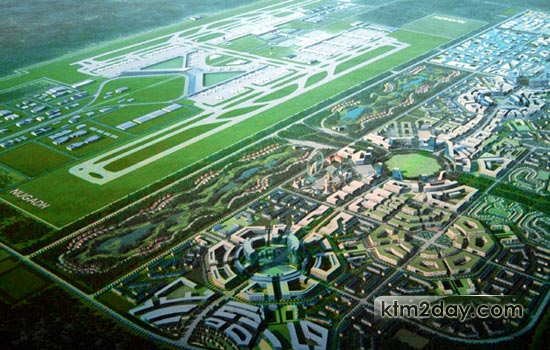 Minister for Tourism and Civil Aviation Lokendra Bista Magar on Sunday said that the construction works of the Second International Airport at Nijgadh of Bara district would start soon.
With the congestion of air-traffic at the Tribhuvan International Airport (TIA), the government had been planning to construct an alternative airport in order to ease the air traffic.
A South Korean company– Landmark Worldwide (LMW)– had already prepared a detailed feasibility study for the airport.
The government plans to develop the airport under a 'Build Own Operate and Transfer-BOOT' model.
The cost for constructing the airport would be US$ 600 million for the first phase.
The feasibility study report shows that the proposed airport could handle 5 to 15 million passengers annually and even accommodate the super-jumbo Airbus 380 after the completion of the first phase construction.
Similarly, the airport would be expanded to accommodate 30 million passengers annually in the second phase and 60 million passengers annually after the completion of the third phase.
"The works on construction of the second international airport at Dumarwana of Bara district, will begin in the near future," Minister Bista informed.
He also informed that the ministry was going to carry out a feasibility study for the construction of an international airport in Narayanpur of Dang district.
He said that the ministry was gong to dispatch a team for Dang to carry out the feasibility study.
He clarified that the local people had demanded the construction of an international airport in their district since long.
However, the concerned authorities had not paid any heed towards the issue.
He also remarked that Dang would be appropriate site for constructing the country's third international airport. (Source: The Rising Nepal)