NAC fleet expansion plan: China agrees to give two aircraft in grant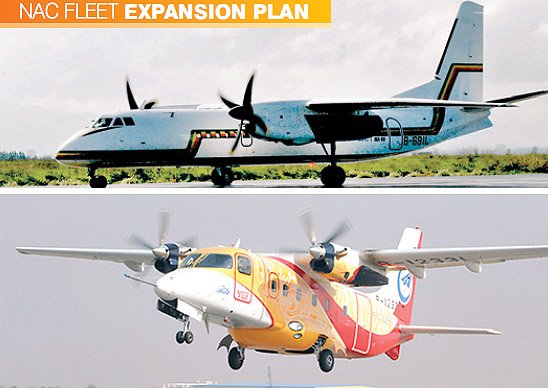 China has agreed to provide two aircraft in grant for the Nepal Airline Corporation (NAC), while five others will be provided on soft loan basis.
Chinese Ambassador to Nepal Yang Houlan, during his meeting with Finance Minister Barsha Man Pun on Friday, said the northern neighbour was ready to provide 19-seater Harbin Y-12 and and 58-seater MA60 turboprop aircraft in grant. Tourism Ministry sources also confirmed the development.
According to Finance Ministry sources, Ambassador Yang told the finance minister that the aircraft would be provided at the earliest. The sources said the planes to be given in grant may arrive in Nepal within a month. "But it will take some more time to bring the aircraft under soft loan," said one of the sources.
Although Nepal had requested for eight aircraft, the two sides finally agreed on seven. According to NAC, the aircraft to be available on soft loan basis will cost between Rs 5 million and Rs 15 million, depending on their capacity. The interest rate on the consessional loan will be 1.75 percent, according to ministry sources.
With a limited number of aircraft costing its market share, NAC has been trying to expand its fleet. It had requested the government to purchase some aircraft, following which the Finance Ministry requested China in November to provide aircraft either in grant or on consessional loan basis. In response, the Chinese side expressed readiness to provide some aircraft in grant and some under soft loan.
Then, a technical team of NAC had visited AVIC International, a Chinese government undertaking that manufactures the Y-12 and the MA60 aircraft, to examine whether the planes were appropriate for Nepal. The team had reported that the airplanes were fit for the Nepali skies.
NAC says if it gets more aircraft, it will be able to compete with private airlines and expand its services to more profitable sectors. Currently, it has no single flight on trunk routes with high profitability.
NAC officials said the small planes could be used for domestic operation and the bigger ones could be used for cross-border flights.
NAC's domestic operation is in loss, as it provides the service at comparatively lower rates and has the compulsion to fly in remote districts.
As of now, NAC holds a mere three percent market share in domestic and 4.8 percent in international operation due to its limited number of aircraft. Out of six Twin Otter planes NAC has, only three are in operation. Canada had given the existing Twin Otters to NAC some 40 years ago.
Aviation experts said the Y-12 plane could be an alternative to the Twin Otters, but they say there should be a maintenance programme in place if NAC is to fly them. Earlier experiences with the Y-12 in Nepal have not been so good due to the lack of a proper maintenance programme.(Source:ekantipur)