Pashmina exports rise by 63.5pc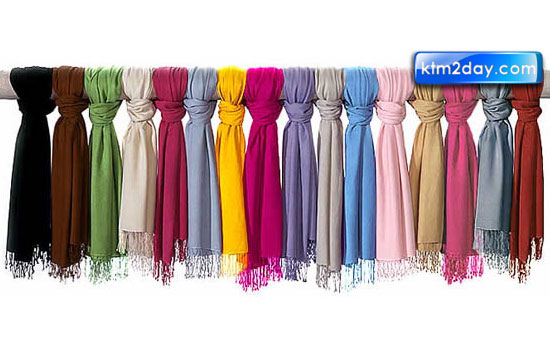 Pashmina exports rose a whopping 63.5 percent in the first half of the current fiscal year.
Exporters attributed this growth to the growing use of the collective trademark 'Chyangra' and increased purchase by the visiting Chinese tourists.
Last year, Nepal exported pashmina products worth Rs 1.64 billion. But this year, the figure has already crossed Rs 1.52 billion within the first six months, according to the Nepal Rastra Bank statistics.
"The Chayngra trademark has started showing its impact on pashmina trading," said Pushpa Man Shrestha, president of Nepal Pashmina Industries' Association (NPIA). The logo has helped maintain the product standard, he added.
According to Shrestha, around 40 percent of the Chinese tourists visiting Nepal over the period purchased pashmina products. The Chinese tourist arrivals increased by 64.16 percent in 2011, according to the Nepal Tourism Board.
Chinese visitors mainly purchase small pashmina shawls, according to the NPIA. "They are mainly attracted towards innovative designs in Nepali pashmina products," said Shrestha.
Citing the need for promoting innovative products, the association has been demanding that the government open a design centre for pashmina. Shrestha said only innovative designs and quality control will help the pashmina business in the long run, stressing on the need for more publicity of the collective trademark to boost exports.
Nepali pashmina is exported to more than 60 countries. After registering the Chyangra logo in 40 countries, NPIA has provided over 10,000 logos to 15 pashmina manufacturing companies.
Arjun Bhandari, managing director of Bhandari Pashmina Traders, said the pashmina business has been improving in recent days. Bhandari, who has been exporting the products to 16 countries, including the US, Canada and European countries, said more publicity of the collective logo could help boost the business.(Source:ekantipur)