High airfare hurts passenger movement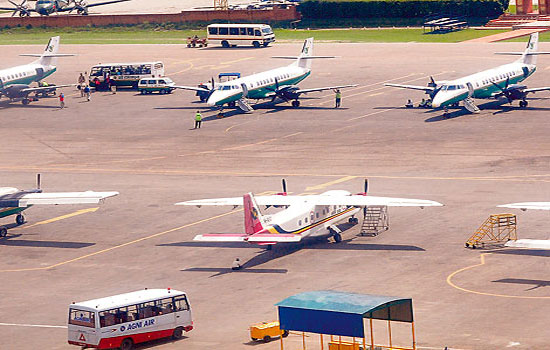 The surge in airfare has hit the passenger movement of domestic airlines in 2011, registering just 1.85 percent growth in domestic air passenger movement as compared to the previous year. According to the statistics released by Tribhuvan International Airport (TIA), domestic airlines carried 1.58 million travelers in 2011 as against 1.55 million of 2010.
The TIA stats shows domestic aircraft movement dropped 0.85 percent in 2011 compared to the previous year. There were 79,188 flights operated in 2011 as against 79,874 flights in 2010. Eight domestic airlines and five helicopter services currently operate from Kathmandu.
Airlines have blamed the drop in passengers' movement to airfare hike. Private air operators had hiked fuel surcharge twice in 2010 and they increased the airfare by 13-48 percent depending on the routes in 2011. In last two years, airfare has become dearer by more than Rs 1,350 in the long-haul routes and Rs 450 in the short-haul sectors.
Domestic passenger movement in 2010 soared as airlines cut fares amid stiff competition. However in 2011, travellers switched to surface transport amid a growth in airfares. "Things are turning difficult currently with spiraling fuel prices and hurting airline profits," says Binay Shakya, manager of Yeti Airlines.
Amongst the domestic air operators, Buddha Air maintained its lead flying more passengers in 2011occupying a share of 43.63 percent.
Buddha Air's fleet expansion drive has allowed it to consolidate its market share in domestic aviation. Addition of an ATR 72 aircraft has helped Buddha to increase its share to 43.63 percent from 39.59 percent of 2010.
According to TIA, Buddha, Agni Air and Sita Air were the only domestic airlines to post a growth in passenger movement in 2011.
The TIA record shows, Buddha Air carried 690,962 passengers in 2011, up 12.24 percent from previous year. However, Buddha Air's aircraft movement dropped 0.79 percent to 23,053 in 2011.
Yeti Airlines was the second largest domestic carrier with 449,460 passengers. However, it suffered a drop of six percent in the passenger occupancy in 2011.
Same is the case with its subsidiary, Tara Air whose passenger occupancy also dropped by 24.22 percent to 78,222 in last year. Tara Air that started operations in June 2009 and flies on short-haul routes had carried 103,224 passengers in 2010.
Agni Air's passenger movement rose 2.08 percent to 197,346 in 2011 from 193,313 in the previous year. Guna Airlines, which started service in May 2009, carried 95,503 passengers in 2011, down 0.64 percent from 2010.
The stat shows continued poor performance of Nepal Airlines Corporation (NAC). The number of passengers carried by NAC in 2011 dipped 2.31 percent to 45,990 from 47,081 in the previous year. Sita Air received 15,543 passengers in 2011, up 41.51 percent compared to 2010. (Source:ekantipur)
| AIRLINES | 2010 | 2011 |
| --- | --- | --- |
| Buddha Air | 615,567 | 690,962 |
| Yeti Airlines | 478,225 | 449,460 |
| Agni Air | 193,313 | 197,346 |
| Tara Air | 103,224 | 78,222 |
| Guna Airlines | 96,122 | 95,503 |
| Nepal Airlines | 47,081 | 45,990 |
| Sita Air | 10,983 | 15,543 |
(Source: TIA)