Nepal agrees to provide transit facility to India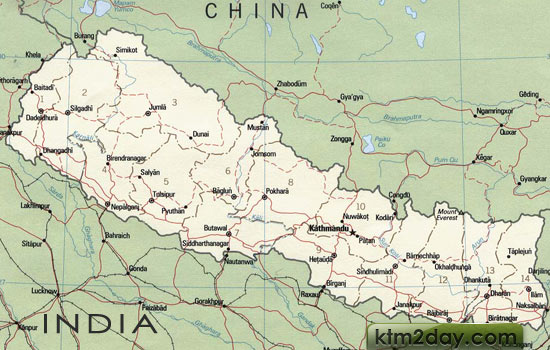 The government has agreed in principle to provide transit facility to India for transporting goods via Nepal.
India had been seeking such a facility on reciprocal basis given it has been providing transit facility to Nepal. Indian trucks will be able to transport goods from one part of India to another part via Nepal's 27 border points after the countries sign a letter of exchange.
This is the first time that Nepal is formally providing such a facility to India, according to officials at the Ministry of Commerce and Supplies (MoCS). "Nepal agreed in principle to this effect during the recent bilateral Inter-Governmental Committee (IGC) meeting in New Delhi, India," said Lalmani Joshi, secretary at the ministry.
The Southern neighbour now has asked Nepal to expedite the agreement signing process. "We will sign the letter of exchange within a few weeks," said Joshi. "The agreement will be implemented after that."
Nepal had been providing such a facility to India on a temporary basis though a government decision whenever floods caused transport disruption in bordering Indian states.
The commerce secretary level meeting held last December had agreed to sign an agreement to this effect along with other agreements such as India allowing Nepal to use the Bisakhapattanam Port, providing transit facility through India's Rohanpur to Sinhabad of Bangladesh and minimising hassles on Phulbari-Banglaband transit route.
Although India has provided transit facility to Nepal through the Phulbari-Bangla Band route to reach Bangladesh, the road is in poor condition and Nepal faces many hassles there.
As far as Rohanpur-Singhbad railway route is concerned, Nepal and Bangladesh and India and Bangladesh have signed agreements for using the route as transit for trade among the countries. Nepal can use the route as per the Transit Treaty and Railways Service Agreement it has signed with India. Under the Transit Treaty, India has pledged Rohanpur-Singhbad railways route (connecting Bangladesh with India) as a transit corridor for Nepal for trade with Bangladesh.
Despite holding this transit rights, Nepal has not been able to make use of the facility so far due to the lack of train service between India and Bangladesh. Nepali officials believe that the transit facility given to India would benefit Nepal as the country can charge fees on Indian cargos such as entry fee in dry port, service charge and road transportation fee.
"The biggest advantage for Nepal is that the country will have more bargaining power as it can claim that it has also given something to India," said a government official involved in the matter.(Source:ekantipur)