Rupee hits record low against dollar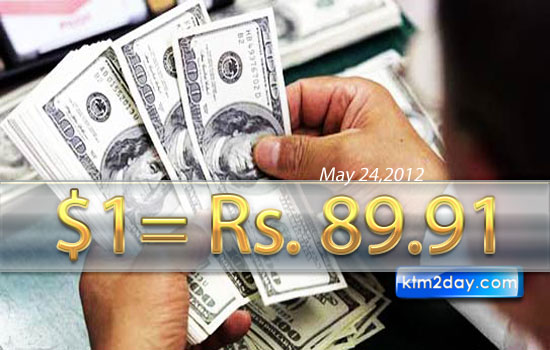 Nepali currency has been brought to another historic low as the Indian rupee takes a beating against the US dollar.
Today, the exchange rate of Nepali currency against the US dollar crossed Rs 87.5 for a dollar on average as per the exchange rate fixed by different commercial banks.
Indian currency, with which the Nepali currency is pegged to, reached an historic low today as the Indian currency traded at IRs 55.47 per dollar in the intra-day trading in the foreign exchange market. However, the Indian foreign exchange rate redeemed itself a little reaching IRs 55.03 by the closing.
Since Nepali currency is pegged to Indian currency, it has got along in the ride, in spite of Nepali rupee having an almost nonexistent exposure to international forex market. The appreciating dollar has started making imports expensive.
Though Indian products might not witness much price rise in the coming days, those products being imported from China will need more Nepali currency to make purchases as Chinese imports are paid in dollars. Though, Nepal will be under pressure due to the increased import cost, it is unable to cash in on the increase in export earnings.
"This could have been a right time for exporters to take advantage of the expensive US dollar. By increasing exports we could have maximised on the higher exchange rate," said president of Garments Association of Nepal Uday Raj Pandey.
"But the capacity of our export industries is not large enough to increase the volume overnight and the volatile political situation also discourages us to take any bold move in case we fail to fulfill the order on time," pointed out Pandey.
Readymade garments are one of the largest exportable items to a third country from Nepal. Of the total exports worth Rs 21 billion to third countries, readymade garments had a share of around Rs three billion.
The worsening eurozone situation has strengthened the dollar against its major rival currency –– euro –– which in turn has appreciated the dollar against the Indian currency.
The commodities prices has gone down in recent weeks which has shifted focus back to the mighty dollar in the international financial arena. According to Indian forex analysts, a large dollar demand from oil firms and weak global sentiment has tilted the scales in favour of US dollar. The volatile Indian currency was hit harder by the appreciating dollar as foreign institutional investors exited in hoards even pulling Indian stock indices down.