Hatchbacks overtake SUVs and sedans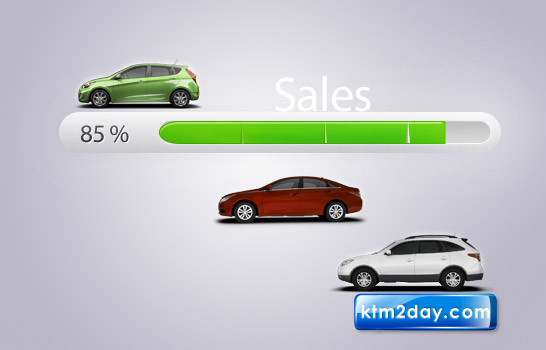 They are less expensive to buy, more economical to maintain, easy to drive on crowded streets and take less parking space.
With many more such advantages, hatchbacks have emerged as the most sought after automobiles in the domestic four-wheeler market. Dealers of major four-wheeler brands say that the hatchback segment is the undisputed leader in Nepal's auto market with a share of around 85 percent. Approximately 6,500 units of passenger cars are sold in the domestic market annually.
While hatchbacks are the first choice for new buyers, owners of sedans and SUVs are also turning towards these compact cars due to the difficulty of driving on Nepal's bad roads. Market leaders like Hyundai and Maruti-Suzuki and other brands like Volkswagen, Honda and Skoda which have focused on premium cars are now all shifting their focus to small cars.
While the year 2011 saw many small car launches — from the Tata Nano to the Honda Brio and the Volkswagen Polo — the year 2012 so far has seen the introduction of the Skoda Fabia, Hyundai Eon and the Maruti-Suzuki Swift. Traders expect more exciting hatchbacks to be rolled out in the near future.
"Around 85 percent of the cars sold in the domestic market are hatchbacks," said Saurav Jyoti, president of the Nepal Automobile Dealers Association (NADA). "Affordability has become the main factor behind the popularity of hatchbacks." He added that a significant rise in the cost of premium cars like SUVs and sedans due to a stronger dollar has also prompted people to go for small cars. "As most of the premium four-wheelers like SUVs and sedans are imported from third countries, they have become more expensive following the strengthening of the dollar against the Nepali rupee," he said. Most of the small cars available in the domestic market are manufactured in India. Even brands like Volkswagen, Skoda and Ford, among others, are bringing small cars from plants in India.
According to Rupesh Sharma Bhatta, senior manager, business development and planning at Laxmi Intercontinental, the authorised importer of Hyundai autos in Nepal, the availability of premium hatchbacks having features like power steering, ABS and air bags which were earlier only available in sedans and SUVs have played a vital role in increasing the popularity of small cars. "Hatchbacks these days are equipped with features found in sedans. And they are easy to ride on domestic terrain conditions. This is why people are more interested in small cars," Bhatta said.
Another reason behind the surge in sales of small cars is increasing gasoline costs driving people away from fuel guzzling SUVs and sedans, Bhatta said. Laxmi Intercontinental claims to be the market leader in the hatchback segment with a market share of 60 percent. It sells four models of hatchbacks — the Hyundai Eon, Santro, i10 and i20.
"With the streets becoming narrower and parking problems becoming a major hassle for motorists, sales of small cars have zoomed in recent days," said Sunil Chhetri, deputy general manager, Maruti-Suzuki division at Arun Intercontinental, the sole authorised distributor of Maruti-Suzuki in Nepal. "While the market for SUVs and sedans has been shrinking every year, the hatchback market has been growing by 4 percent annually."
According to Chhetri, affordability has become another major factor. "An individual earning Rs 35,000 to Rs 40,000 per month can go for a hatchback," he said. Maruti-Suzuki is the second largest brand in the hatchback segment with the company claiming to have a 40 percent share of the hatchback market.