New baneshwor flyover : Government to call tender soon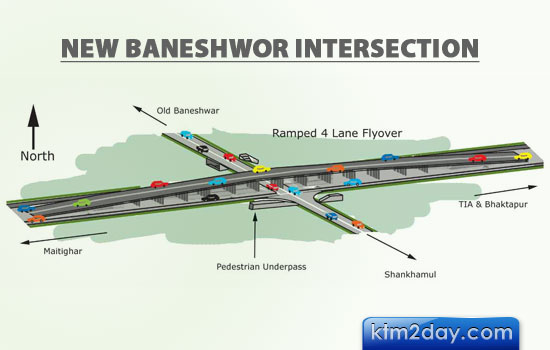 The Ministry of Physical Planning, Works and Transport Management has said it will soon call a tender for building a flyover at the New Baneshwor junction.
The ministry on Sunday asked the consultant—a joint venture of Soil Test and Aviyaan Consulting—to present the final design, cost projection and bid documents within two weeks to speed up the procurement process. The consultant has already submitted the detailed project report (DPR) The ministry plans to build the New Baneshwor flyover as a pilot project and construct other such overpasses in future. "Since this is a model, we will be carrying out this project giving higher importance," said Tulasi Prasad Sitaula, secretary at the ministry.
In a bid to gather suggestions and showcase the government plan, the Department of Roads, the implementing agency of the flyover project, on Sunday held a stakeholder meeting. Local residents, representatives from the traffic police, Kathmandu Metropolitan City, NGO, INGOs, transport entrepreneurs, government officials, among others, were present at the meeting.
Madhav Karki, spokesperson for the road department, said they did not receive any objections from locals. He added the consultant would also furnish the final design for the flyover (3.5km) connecting Maitighar-Tripureshwor-Kalimati junctions-the other three busy junctions in the Capital.
The New Baneshwor flyover is estimated to cost Rs 500-600 million, according to road department officials. The intersection was selected for the pilot project as it is easy to carry out construction work there with no build up area on the either side of the road to disturb the government plan. It is also the busiest intersection of Kathmandu with 115,000 vehicles and 55,000 pedestrians crossing the junction every day.
Initially, the government had planned to build five flyovers for the New Baneswor, Thapathali, Tripureshwor, Kalimati and Old Baneshwor junctions to reduce traffic congestion and help motorists reach the Tribhuwan International Airport easily. But later, the government decided to build an overpass at New Baneshwor as pilot project to have some experience and undertake other planned overpasses in future.
However, a department official said the government would not build flyover at Old Baneshwor due to the lack of space. "Construction of a three-lane flyover, as recommended by the consultant, for linking Maitighar, Tripureshwor and Kalimati is also challenging as the distance between the flyover and road side buildings would be just around 4-4.5 metres," the official said.