Nepal ranks 139th in global corruption index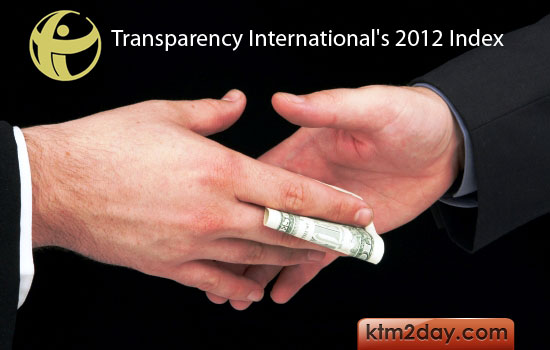 Nepal is 139th on the Transparency International's 2012 index of the least corrupt countries.
Nepal's public sector scored 27 on the corruption watch-dog's scale from 0 (perceived to be highly corrupt) to 100 (perceived to be very clean).
Pakistan, Azerbaijan, Nigeria and Kenya are also ranked 139th while New Zealand, Denmark and Finland shared the first spot.
The 2012 index ranks 176 countries by their perceived levels of public sector corruption. The index assigns scores of between one and 100, 1 being highly corrupt and 100 clean. Nations hit hard by the eurozone debt crisis are being held back by an inability to get to grips with corruption, the anti-graft watchdog said on Wednesday.
Last year, Nepal was ranked 154th Nepal is still on the list of countries where corruption is rife, said TI- Nepal chief Bishnu Bahadur KC. There has not been significant progress in battle against corruption, he said making the report public in Kathmandu on Wednesday.