Nepal, UAE all set to sign enhanced air services agreement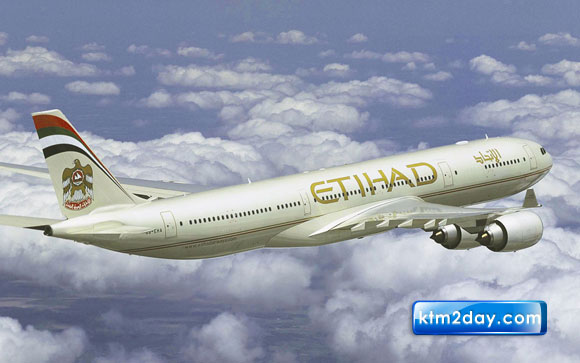 Nepal and the United Arab Emirates (UAE) are all set to sign an enhanced bilateral air services agreement (ASA) on Tuesday to increase the existing 28 flights a week to 70 to meet the growing demand of air travellers.
An 18-member team from the UAE has arrived here to revise the bilateral ASA. Nepal signed an ASA with the UAE in 1994 and a memorandum of understanding (MoU) on Dec 27, 2007.
"Both sides put forward their views at Monday's gathering and there was agreement on almost all the topics," said a senior official of the Ministry of Culture, Tourism and Civil Aviation. "We are much closer to signing a revised ASA on Tuesday."
Based on reciprocal exchanges of authorisation, the ASA is normally revised depending on the country's requirement of air seats. The ministry source said that the UAE had been requesting for an unlimited point-to-point frequency, but Nepali side had been refusing so far.
The Middle East carriers in particular are facing an air seat crunch since the last two years due to rise in movement of foreign tourists and Nepali migrant workers.
To address their demand, the ministry had continued the temporary operating permit (TOP) scheme for international airlines connecting Kathmandu in 2013, allowing additional 14 flights a week to the respective countries facing seat crunch. The UAE-based carriers are allowed 42 weekly flights, including the TOP scheme. The TOP scheme will once the ASAs are revised. At present, RAK Airways, Fly Dubai, Air Arabia and Etihad Airways connect Nepal from the UAE. The Dubai-based Emirates has also shown interest to operate flights to Nepal, said the official who attended the Monday meeting.
"The Nepali side also pushed for a joint tourism promotion, technical cooperation and human resources development in the field of aviation," the source added.
As demand for air services continue to grow, the bilateral agreement was enhanced to include more capacity entitlements. But Nepal does not stand to benefit much from it due to limited aircraft of its national flag carrier Nepal Airlines Corporation (NAC). The government officials, however, said that it will be a win-win situation if NAC gets new aircraft.
The Middle East carriers account for 39 percent of Nepal's total inbound and outbound traveler movement and handle 42 percent of the total cargo movement.
There were 1.047 million inbound and outbound flyers from the Middle East carriers, of which the UAE carriers flew 491,775 travellers (18.22 percent share) in 2011, according to Tribhuvan International Airport (TIA) statistics. The UAE-based carriers handled 21.41 percent of the cargo in and out of Nepal in 2011.
Nepal has bilateral air service agreements with 36 countries, with a total of 5.7 million seats per annum to and from Nepal. However, the operating airlines are unable to use even 40 percent of their capacity so far.
Since adopting a liberal sky policy in 1992, Nepal has signed air agreements with four countries (Japan, UK, Qatar and Malaysia) and MoU with 16 countries (Italy, Egypt, Luxemburg, Austria, Bahrain, Oman, Macao, The Netherlands, Saudi Arabia, Jordan, Kuwait, UAE, Croatia, Israel, Philippines and Turkey). The government is scheduled to revise ASAs with China in May.
Five more countries—USA, Vietnam, Indonesia, Russia and Australia—are willing to sign the air agreement with Nepal.