Government to allow electric rickshaws in urban centers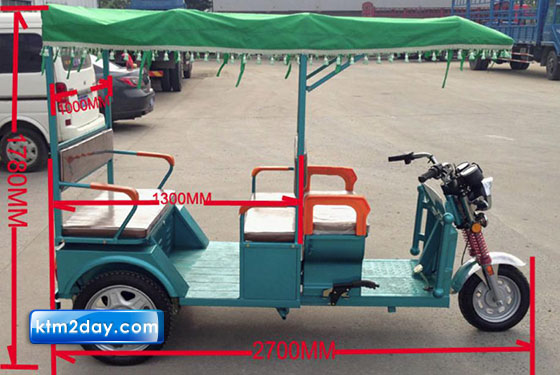 The government has decided to allow electric rickshaws to ply the roads in urban centers and municipalities.
The Ministry of Physical Infrastructure and Transport (MoPIT) on Friday took the decision to allow battery-operated rickshaws that can carry up to five passengers, or load of 500 kilograms, on Nepali roads. The meeting decided to issue road permit to rickshaws powered by up to 1500 watt batteries. Speed limit for those rickshaws has been fixed at 25 km per hour.
Talking to Republica, Senior Divisional Engineer of MoPIT Nabin Kumar Pokharel said MoPIT has directed the Department of Transport Management (DoTM) to register electric rickshaws through its zonal offices and issue road permits by fixing a quota in urban centers.
MoPIT, however, has decided not to allow such vehicles in the Kathmandu Valley, Pokara and areas covered by the Lumbini Master Plan.
According to ministry officials, electric rickshaws should meet road worthiness requirements and a pass a road test conducted by technicians.
Electric rickshaws are already in operation, albeit illegally, in Birgunj, Hetauda, Biratngar, Butwal and Nepalgunj.
Hulas Motors, which assembles five types of rickshaws from parts imported from China, had applied for registration of rickshaws two months ago.
Talking to Republica over telephone from Biratnagar, Surendra Golchha, director of Hulas Motors, said the new rickshaws will not only improve city transport but also bring about changes in the lives of rickshaw pullers. "We want to replace normal rickshaws by the battery-powered rickshaws which are also called nano rickshaws," he said, claiming that daily income of rickshaw pullers would double after the loan payment period is over.
Prices of electric rickshaws start from Rs 150,000. There are separate models to carry passengers and cargo.
"We will provide easy financing for rickshaw pullers so that they can replace their traditional rickshaws with the new electric rickshaw," added Golcha. "These rickshaws, however, can be operated only in plains."
Besides Hulas Motors, there are around half a dozen companies that are assembling and supplying rickshaws in different Tarai districts.
Sharad Adhikari, director at DoTM, argued that electric rickshaws will make urban centers pollution-free and provide people with faster transport compared to traditional rickshaws.
Dinkar Sharma, former joint secretary of MoPIT, welcomed the decision. "Such vehicles can reduce import of fossil fuel and reduce pollution," he said.