Football jerseys selling like hotcakes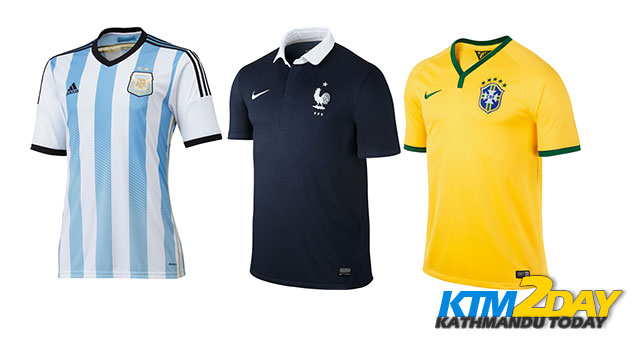 Sale of football jerseys is picking up in the Kathmandu Valley as FIFA World Cup 2014 nears.
Football fans are thronging outlets of sportswear in the Kathmandu Valley to buy shirts of their favorite teams.
FIFA World Cup, which is probably the biggest sporting event in the planet, kicks off in Brazil on June 12.
Operators of sportswear outlets say the demand for football shirts is picking up with every passing day. "We are doing brisk business as hundreds of football fans are visiting our outlet everyday looking for jersey of their favorite teams," Kishor Kumar Joshi, director of Sports Universe – a leading sportswear store located in New Baneshwar — told Republica.
Sports Universe has been selling around 100 jerseys on a daily basis for the past few weeks. "Though we have sufficient jerseys on stock, we have placed fresh orders so that football fans do not have to return empty-handed," he added.
According to Joshi, more than 90 percent of the buyers are youths. He also added that most of them prefer jerseys of Argentina, Germany, Brazil, England, Spain, Italy and Portugal, among others.
Igbal Hussian, a student of NCIT College who was at the store to buy jersey of Italian national team, said supporting a team by wearing its jersey is like supporting the team in the stadium itself.
Prakash Shrestha of Nepal Sports House at Khichapokhari said growing popularity of different sporting activities among Nepali youths has pushed up sale of not only football jerseys but other sport materials as well. "We are selling around 25-30 football jerseys every day," Shrestha said, adding, "Sale of football boots, footballs and flags of different countries participating in the World Cup has also increased."
Football jerseys are priced between Rs 575 to Rs 1,100 per piece depending on the quality.
"Good thing is that price is not deterring football fans from buying jerseys of their favorite teams," Joshi said, adding that price of jerseys has increased by around Rs 200 per piece compared to last year.
According to traders, most of the football jerseys sold in the Valley come from China. Some traders import jerseys also from Pakistan.