Tourist arrivals by air 'drop' in June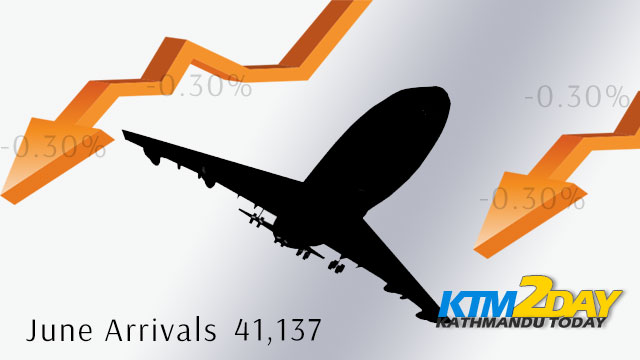 Tourist arrivals by air in June dropped by 0.30 percent to 41,137, according to the statistics released by Immigration Office, Tribhuvan International Airport.
The South Asian market segment registered negative growth of 1.04 percent. India, which constitutes a major market to Nepal, recorded a negative growth of 2.21 percent. Also, arrivals from Pakistan and Sri Lanka have dropped by 5.54 percent and 28.97 percent respectively. However, arrivals from Bangladesh have increased by 17.43 percent.
Arrivals from Asia (other than South Asia) have increased by 0.49 percent in aggregate. Visitor arrivals from China grew by 10 percent compared to the same month last year.
Similarly, arrivals from Singapore and Thailand have increased by 12.56 percent and 5.79 percent respectively. Japan, South Korea and Malaysia markets saw declines of 13 percent, 31.8 percent and1.98 percent respectively.
An overall negative growth of 13.27 percent has been observed from the European markets with major decline from markets such as the UK, Spain, Italy, the Netherlands, France and Germany 10.24 percent, 3.50 percent, 24.64 percent, 13.90 percent, 16.25 percent and 17.85 percent respectively.
However, arrivals from Austria, the Czech Republic and Poland increased by 71.05 percent, 6.67 percent and 12.77 percent respectively compared to the same month last year. Tourist arrivals from Australia, New Zealand and the USA have increased by 18.69 percent, 37.65 percent and 5.68 percent respectively. However, arrivals from Canada decreased by 15.76 percent respectively.